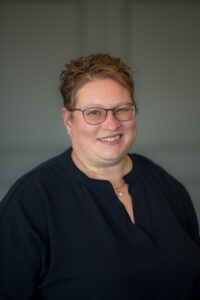 SUE NASINEC
FUNERAL DIRECTOR, MORTICIAN,
EVENT PLANNER, OWNER
Sue first began her journey at the funeral home as an intern under the management of Stan and Kathy Bruss. Instantly, she fell in love with the community and the unique opportunity she had to serve families in the Wells area. After completing her internship, she began her career at Bruss-Heitner Funeral Home as a licensed mortician and, in 2008, took over ownership of the firm with her husband, Nate.  In March of 2022, after the completion of the new funeral home, the name changed to Nasinec Funeral Home and Crematory.
Sue's expertise and passion shine through her work each and every day. She loves meeting new people and the friendships that naturally develop throughout the process. "My goal is to take the burden out of the details so that the families we serve can simply spend time with their family which starts their healing process. My entire team strives to provide a seamless experience for every family we serve."
Sue and Nate have been married for 32 years and have three grown sons: Brandon, Aaron and Cameron; Brandon and his wife Danielle have blessed them with three grandchildren, Zander, Ahnika and Luka. And, we cannot forget our white Husky-Malamute, Indy. When she has an opportunity to leave town and have an adventure, Sue enjoys day trips with girlfriends, cocktails on the patio, and hanging out with her family.