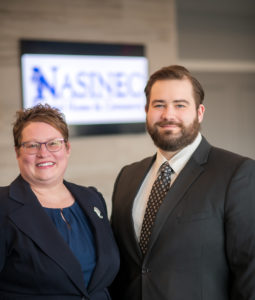 A LEGACY OF
CELEBRATING &
HONORING LIFE
Since 1958 Bruss-Heitner Funeral Homes has served communities across Southern Minnesota. Family owned and operated, our team feels absolutely privileged to be able to help people celebrate life, honor loved ones, and heal and move forward in their own lives.
Our team's commitment to quality, dependability, and providing unwavering support to families have allowed us to confidently serve our community. From pre-planning to funeral services, our team is dedicated to ensuring a seamless, comfortable process with every family we work with.
In 2022 we officially rebranded as Nasinec Funeral Home & Crematory.
OUR LEGACY
Founded by Erna Heitner, Bruss-Heitner Funeral Homes has had a distinctive, respected reputation from the very beginning. Graduating from the University of Minnesota, Erna was the only female in her graduating class, and went on to start her business in Wells, Minnesota. She and her husband, Bill, supported the community tirelessly through the years.
Today, the business is still female owned and operated, with Sue Nasinec as Mortician, Funeral Director, and Owner. She and her husband, Nate, work together to serve the communities across Southern Minnesota, and their son, Brandon, graduated from the University of Minnesota and joined the family business to continue the legacy of this long-standing business.
DISTINCTLY SERVING WITH OUR
UNIQUE APPROACH
Nasinec Funeral Home & Crematory is privileged to serve our communities through our distinct business structure:
Family-Owned – Since its inception, this business has been family-owned and operated by local residents of the community. Today, that legacy continues with the Nasinec family and the plans we have to continue serving this community in the years to come.
Approach – Our business works to deliver the highest quality experience throughout the entire planning process, and our facility allows us to work as a full-service mortuary right in the heart of Southern Minnesota to best support the families we serve.
Expertise – As Mortician, Funeral Director, and Owner, each of our families get to work directly with Sue Nasinec. Her invaluable expertise enables her to provide a comforting, assuring, graceful experience for everyone who comes through our doors.
From the moment we begin serving a family, each member of our staff is committed to providing a seamless, comforting experience. We work alongside families to organize, plan, and execute all desired services in a timely manner, and take pride in managing every single detail from the start of the arrangement process through the burial or cremation. Our team has been carefully trained to cover the details of providing services, explaining options, and designing a unique service to celebrate the life of your loved one.
MEET THE SUPPORTIVE
NASINEC FUNERAL HOME & CREMATORY TEAM
LOCATION
789 Business Park Drive
Wells, MN 56097