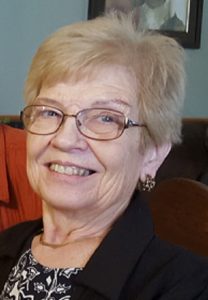 Carrie Ann Koestler, age 84, of Albert Lea, formerly of Wells, died Tuesday, May 4, 2021 at St. John's Lutheran Home in Albert Lea, MN.  Funeral Services will be private with Carrie's family at United Lutheran Church in Walters with Pastor Don Rose officiating and burial will be in Rice Lake Cemetery, Foster Township, Faribault County, MN.  The public is invited to Rice Lake Cemetery for Carrie's burial.  Please be at the cemetery by 11:45 AM on Monday, May 10, and park on the road. A public visitation will be held at Bruss-Heitner Funeral Home in Wells on Sunday, May 9, 2021 from 2:00 to 5:00 PM.  Please see brussheitner.com to leave an online condolence.  Face masks and social distancing will be observed.  Bruss-Heitner Funeral Home is entrusted with arrangements.
     Carrie Ann was born October 26, 1936 in Bricelyn, MN, the daughter of Albert and Charlotte (Nodland) Henderson.  She was confirmed in Bricelyn May 13, 1951.  Carrie graduated from Frost High School in 1954. After graduating, she attended Lutheran Bible Institute (LBI) in south Minneapolis.  Carrie married Doyle R. Koestler on April 28, 1956 at United Lutheran in Frost. They lived in Frost before moving to a farm outside of Brush Creek. In 1962, they bought and settled onto the farm where they made their living and raised their family until retiring and moving to Wells in 2001.
     Carrie was very active in the church with the Ruth circle, LCW, served as president of the congregation and was church custodian for over 20 years. She partnered in putting together the Walters Church cookbook which many people still enjoy today. She also sold Avon for over 25 years. Carrie was always busy. Her passions included tending to many flower beds and her vegetable garden. She also had a love for baking/cooking and trying new recipes; in her downtime, she found herself busy in her craft room making homemade greeting cards. One of her greatest passions was making quilts. She made many quilts for her family and was involved in quilting days at church. Carrie and Doyle also enjoyed spending many hours watching the birds at the feeders in their backyard. Carrie was her kids' biggest fan and rarely missed an event that they were in. Her grandchildren always brought a special sparkle to her eyes and she always looked forward to their visits.
     Carrie is survived by five children: Dale (wife Cheryl) Koestler of Wells, James (wife Gretchen) Koestler of Inver Grove Heights, MN, Deanne (husband Tony) Trussell of Sioux Falls, SD, Robert (wife Katie) Koestler of Fennimore, WI, Jonathan Koestler (husband Jon Young) of Atlanta, GA; 11 grandchildren: Shannon (Brad) Bodick, Danielle Koestler and Kate Koestler; Jake Koestler (fiancé Anna Kinsela) and Erin Koestler; Kyle Massey and Nicole (Josh) Gruhlke; Dillon, Ethan, Natalie and Logan Koestler; two great-grandchildren: Chase and Hailee Gruhlke; 2 sisters:  Laura Jacobson of Salem, OR, and Alma Kallesen of Sioux Falls, SD, along with several nieces and nephews and their families.
     She is preceded in death by her parents, brother Donald, husband Doyle (2017), and a granddaughter, Lauren.