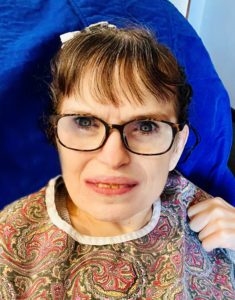 Kimberly "Kim" Marie Rauenhorst, age 52, of Mankato, MN passed away on December 5, 2021 at her home surrounded by family. A memorial mass will be held at Our Lady of Mount Carmel (OLMC) Catholic Church in Easton, MN on
Saturday, January 29, 2022

at 11:00 am with Deacon Gene Paul officiating. Burial will be in OLMC Catholic Cemetery. Visitation will take place one hour prior to the service at church. Memorials can be sent to Our Lady of Mount Carmel Church, Easton MN.  Bruss-Heitner Funeral Home is assisting the family.  Please visit brussheitner.com to leave online condolences.
     Kim was born February 18th, 1969 in Wells, MN the daughter of Milton and Kathryn (Grise) Rauenhorst, and the youngest of five children.  Kim grew up on a dairy farm outside of Easton, MN and was baptized at Our Lady of Mount Carmel Catholic Church in Easton MN. Kim lived and worked in Mankato where she was employed at MRCI for many years. She received love and attention from REM services in Mankato where she was a resident. Kim loved to listen to and dance to rock music, watch her favorite show, "Matilda", and most of all to eat her favorite food which was chocolate!  She will be remembered for her beautiful way to show love, without saying a word, and how she taught others how to take joy in simple things!
     Kim will be missed by her sisters, Teresa (Gregg) Heckley of Tampa, FL, Julie (Glenn Garbowicz) Welsh of Algonquin, IL, and Mary Kay (Chris) Coyne of Apple Valley MN; nieces and nephews Mary and Thomas Welsh V, Laura (Zach) Lebovic, Nicole Heckley, Katie and Kelly Coyne; aunts and uncle: Betty (Larry) Thisius, Marilyn Rauenhorst of Wells; and many other relatives and friends.
     She is preceded in death by her parents, brother Jerry Rauenhorst, Brother-in-law Thomas Welsh IV, Aunts and Uncles, Donald (Darlene) Rauenhorst, Mary Jane (Harvey) Vogel, Melaine (James) Theede and Margaret(Tom) Lubitz; and first cousins:  Pamela Lubitz, Karen Thisius, Diane Thisius and  John Rauenhorst.
     The family wishes to thank Kim's caregivers for their assistance and kindness to Kim especially Jill, the facility nurse, and caretaker Destiny.