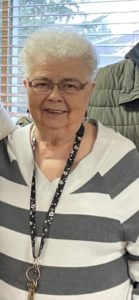 Yvonne Marlene Salisbury 02/11/1937 – 05/12/2022
Yvonne Marlene (Frisk) Salisbury passed away unexpectedly in Asheville, North Carolina while traveling on vacation with family.  Visitation will be held Thursday, May 19th, 2022 from 5:00 to 7:00 PM with her family at Nasinec Funeral Home and Crematory in Wells (789 Business Park Drive Wells, MN) and will continue one hour prior to the service at church.   A funeral service will take place Friday, May 20th, 2022 at 10:30 AM at Good Shepherd Lutheran Church in Wells, MN. Burial following the funeral to take place in Rosehill Cemetery in Wells, MN. In lieu of flowers, the family requests you please direct memorials in her honor to one of the following:  The Wells Fire Department, The Wells Community Ambulance Service, or Good Shepherd Lutheran Church. Nasinec Funeral Home in Wells is entrusted with arrangements. Please see http://www.nasinecfh.com to leave online condolences.
She was the first born, of Lucille (Ireton) and LeRoy Frisk, on February 11, 1937 in Avoca, MN.  Yvonne graduated from Slayton High School in 1955.  Following graduation, she moved to Worthington, MN where she worked for Campbell's Soup Company and met the love of her life, Lester Hobart Salisbury.  The two continued to correspond through love letters when Les entered the service, and married April 1, 1956 in Anaheim, CA.
Yvonne's greatest blessings in life were her family.  Together, they shared five children, eight grandchildren, and three great-grandchildren.  She was able to make her living caring for everyone who entered their home.  Yvonne loved to spoil her family and friends with her talents in the kitchen.
She was a Den Mother for her boys, a Girl Scout Leader for her daughter, and proud supporter and fan to all her grand and great-grandchildren.  Yvonne was a member of Good Shepherd Lutheran Church in Wells, where she was an active member of the funeral committee for many years.  She was a member of the Wells Auxiliary Legion Post 210 and the Worthington Legion.
Yvonne is survived by:  her children Kevin (Bea) Salisbury, Winona, MN, David Salisbury, Crescent, IA, Craig (Karen) Salisbury, Lanesville, IN, and Jodie Salisbury, Owatonna, MN; Grandchildren Amanda (Jeff) Weifenbach, Rachel Vogel, Leah (Nick) Schmitz, Shannon (Dylan) Bakken, Megan Salisbury, Brianne Salisbury, Dylan Salisbury, and Cole Salisbury;  Great Grandchildren Kirsten Weifenbach, Payton Weifenbach, and Jaydyn Schmitz; Sister Marlyce (Denny) Kalmes; Brother-In-Law Bert (Joyce) Salisbury; Sister-In-Law Mary Lou Salisbury.  Many nieces, nephews, and friends.
Yvonne was proceeded in death by her parents, brother (Gerald Frisk), Husband, and son (Gary Salisbury).