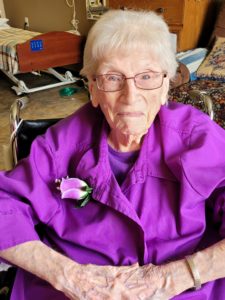 Lavon Majel (Johnson) Hove died Friday July, 1, 2022 at Evansville Care Center in Evansville, MN. Visitation will be held Wednesday, July 6, 2022 from 4:00-7:00 PM at Nasinec Funeral Home and Crematory (789 Business Park Dr., Wells, MN  56097), and will continue one hour prior to the service on Thursday at the funeral home (9:30-10:30 am).  A Funeral Service will be held Thursday, July 7, 2022 at 10:30 am at Nasinec Funeral Home and burial will be in South Blue Earth Lutheran Cemetery, Seely Twp., Faribault Co., MN.
Lavon was born July 15, 1931 on a farm in Brush Creek Township, Faribault County, MN, the daughter of Willie C. Johnson and Caroline E. (Goette) Johnson.  She was baptized at St. Paul's Lutheran Church in Kiester, MN.  She was confirmed at Bricelyn Lutheran Church.  She attended Jelle's Country School and graduated in 1949 from Bricelyn High School.
She was married September 23, 1951 to Arlow W. Hove at Shiloh Lutheran and they had four children. Lavon and Arlow farmed in the Bricelyn area their married life.
Lavon worked at the bank in Kiester for five years, after her children were born. She was a homemaker for about 14 years and then worked at the Bank in Bricelyn for 26.5 years until she retired in 1996. She enjoyed gardening, sewing; she sewed many costumes for her grandchildren, crafting, quilting with her friends at South Blue Earth Church.
Lavon moved to the Evansville Care Center in 2017.  She passed away peacefully on July 1, 2022.
Lavon is survived by her children Eileen Lammle (Glen), Curt Hove (Sandi), Ellen Dalton (Jerry), She is also survived by her many Grandchildren and Great Grandchildren.
She was preceded in death by her husband Arlow Hove, son Keith Hove, great grandson Dax Hove, and her parents.