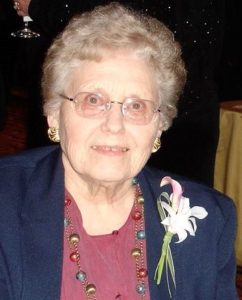 Anne Marie (Zaharris) Chirpich died Monday, July 11, 2022 at Pathstone Crossing, Mankato MN.  She was 99.
Visitation is Monday, July 25th, 11-12pm, followed by a noon memorial service at Nasinec Funeral Home, 789 Business Park Drive, Wells, MN.  Burial will be at St. Casimir's Catholic Cemetery, Wells, MN.
Anne was born on April 25, 1923 to John and Barbara (Keller) Zaharris in South Dakota. She graduated in 1941 from Wells High School.  On June 5, 1945, she was united in marriage to Casimir Chirpich at St. Casimir's Catholic Church in Wells. They farmed in rural Wells, where they raised their family.  Anne supported her husband and family on the farm, and as a homemaker, she enjoyed cooking, baking, gardening, mowing, sewing, playing cards, and taking care of her grandkids.  She was active in the Rosary Society, National Catholic Society of Foresters, Council of Catholic Women, and Faribault County Extension.
Anne is survived by her children, Connie (Lee) Hoffman of Mankato, Ken (Carol) Chirpich of Lake Forest, CA, Craig Chirpich and Bill Chirpich of Wells.  Grandchildren, Chad (Season) Hoffman of Mankato, Jeff (Tatum) Chirpich of Spring Hill, Tennessee, Scott Chirpich of Lake Forest, CA, six great-grandchildren, sister Marge McCarthy and brother-in-law, Stan Moore.
She was preceded in death by her parents, husband Casimir, two brothers Eugene Zaharris, Leonard Zaharris, and two sisters, Dorothy Moore and Clara Baker.
The family would like to thank all of her kind caregivers at Pathstone Crossing and also the Mankato Mayo Clinic Hospice Team for their loving care.
Condolences can be sent to PO Box 4182, Mankato MN 56002-4182.
Complete obituary or to leave online condolences at (www.nasinecfh.com)