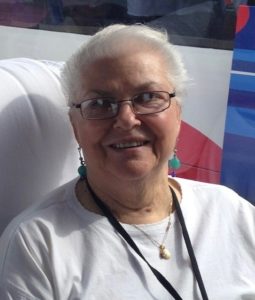 Judy Barnes of Bricelyn, Minnesota passed away peacefully at home on Wednesday, 27 July 2022 in the company of those who loved her.
Born Judith Anne Ackerman on 03 December 1937 to Orlando and Marjorie (Hynes) Ackerman in Wells, Minnesota, she was one of 10 children in a lively and loving family. She attended primary school in Wells and high school in Kiester, graduating in 1955. In high school she excelled in the dramatic arts; taking roles in every production, and her beautiful alto voice often allowed her the lead singing parts as well.
While attending college at Mankato State University as an English student, she met Robert Wilson Barnes and they married on 01 December 1956. They remained married until his passing on 10 August 1991. Judy and Bob had 4 exceptional children; Robert Joel, 08 June 1957 – 30 March 2015; Daniel David, 30 June 1958 – 16 March 2013; Craig Philip, 20 August 1959 – 03 March 2008, and Jaime Terese – 14 January 1961; individuals all, and wonderful souls.
Judy was an avid birder and gardener, a voracious reader and a lover of the arts. To borrow a quote from her, "You can't have too many books, too much art, or enough music." An adventurous soul, she rode the RAGBRAI in 1975, took numerous hikes and camping trips in the Rockies, a tattoo to commemorate her 60th birthday, and zip lining to celebrate her 80th! She also did a fair bit of traveling; visiting China, Egypt, Zambia, Jordan, Cuba, and Ireland as well as cruises on the Mediterranean Sea and the Rhine River that allowed short visits to numerous European countries.
Preceded in death by her husband Robert (Bob) Barnes, her sons Robert (Rob) Barnes, Daniel (Dan) Barnes, and Craig Barnes, and her brothers Orlando (Lon) Ackerman, Philip (Phil) Ackerman, Joel Ackerman, Michael (Mike) Ackerman, and Richard (Rick) Ackerman.
She is survived by her daughter Jaime Ferguson and husband Doug, her grandchildren Jordan Ferguson, David and LeAnn Ferguson, Braden Ferguson, great-grandchildren Daniel and Daeton Ferguson, brother Gregory (Greg) Ackerman, and sisters Mary Lee (Teita) Amberg, Kathleen (Kas) Greenfield, and Melisse (Meem) Storvick. An intelligent and compassionate soul, she will be dearly missed by all who have had the good fortune to know her. Death leaves a heartache no one can heal; Love leaves a memory no one can steal.
Memorial services will be held 11:00AM, 06 Sunday, August 2023 at the Clayton Cemetery in Bricelyn, MN. Nasinec Funeral Home in Wells is entrusted with arrangements. Please see www.nasinecfh.com to leave online condolences.