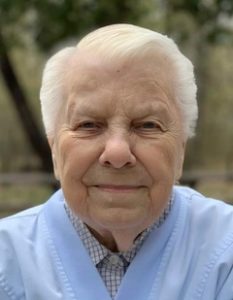 Irene was born on November 3, 1925 in Decoria Township in Blue Earth County to Nora (Wendtlandt) and Paul Bartsch. She was the first of six children.  She graduated from Rapidan High School, attended Mankato State College and worked at Automatic Electric in Mankato, before she married Roger Schultz on November 9, 1960 in Mankato. They lived outside of Wells on the family farm where they raised dairy cattle and farmed the land.  Together they raised four daughters. In addition to enjoying life on the farm Irene gardened, was an avid reader, scrapbooked, sewed, attended church, and loved spending time with her family and friends.  After the loss of Roger, Irene moved to Stillwater to be near her family until she passed away at Boutwell's Landing at the age of 95 years on February 16, 2021. A private funeral officiated by Pastor Kris Linner was held on February 19, 2021 at Nasinec Funeral Home, Wells followed by interment at Decoria Cemetery  in Blue Earth County.
Irene is survived by her children, Lauralee (David) Egli of Minocqua, WI, Cary (Peter) Bolstorff of Stillwater, Amy (Greg Voeller) Krystosek of Sartell, Darla (John) Winter of Cottage Grove ; grandchildren, Laura (Matt) Treat, Kristi (Alex) Autio, Jenni Bolstorff, Jacob Winter, Isaac (Carly) Winter, Elijah Krystosek, and Simon Krystosek; great-grandchildren, Sydney and Madison Autio, Elizabeth and William Treat, one brother, Harold (Donnave) Bartsch and sisters, Helen Schmidt, Mildred Groskreutz, Lorraine (Jerry) David, Carol (Jim) Rein; as well as many nieces, nephews and friends.
Irene was preceded in death by her parents, husband, three brother-in-laws, one sister-in-law and one son-in-law.