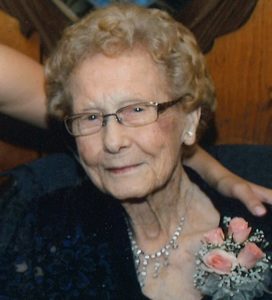 Clarise Ruth (Kvale Minikis) Johnson, age 100, died Tuesday, September 20, 2022 at St Mary's Hospital in Rochester, MN. Visitation will be held from 10:00-11:00 AM on Wednesday, September 28, 2022 at Nasinec Funeral Home in Wells, MN.  A Funeral Service will follow at 11:00 AM with Pastor Jan Redman officiating. Burial will be in Newark Cemetery in Vincent, IA with Jim Kvale officiating an interment service. Nasinec Funeral Home in Wells is entrusted with arrangements. Please see www.nasinecfh.com to leave online condolences.
Clarise was born June 25, 1922 the daughter of Helmick and Anna Olena (Olson) Kvale in Goldfield, Iowa. She attended Goldfield, Iowa area rural schools, and Eagle Grove High School, graduating May 29, 1936. She attended Eagle Grove Junior College and graduated in 1940 with her teaching degree, she taught in rural schools in Wright and Webster Counties and in Vincent, Iowa.
On June 4, 1944 Clarise married Melvin Henry Minikis, son of Elizabeth and Henry Minikis and they built a beautiful life together. While first married Clarise continued to teach Kindergarten to 8th grade school for the next 4 years.  Clarise helped her husband farm in Goldfield and later the couple moved to the Thor area where they continued to farm. Clarise and Melvin were blessed with their son, Larry and two daughters; Jayne, and Lisa.
Melvin passed away on May 16th, 1970.  Clarise continued to farm with her son, Larry until she met and married Andrew Johnson. Andy and Clarise were married August 4, 1973. Clarise and Lisa moved to Wells, Minnesota to live with Andy.  With this union Clarise was blessed to have two stepsons, Duane and Steven. Andy and Clarise farmed with Steven until their retirement in 1985 when they purchased a home in Wells. Andy passed away July 20, 2015. Clarise lived in their home for the next few years and then moved to Southview Estates Independent living until she passed away.
Andy and Clarise enjoyed many years exploring new places, eating at new restaurants and traveling throughout the United States and 3 times visiting her family in Norway.  They spent several weeks in either Texas or Arizona during the winter months. One of her favorite states to visit was Kentucky.  Clarise was a fantastic cook and baker. She would make requested desserts for her children on holidays and chocolate chip cookies for her grandchildren.  She learned how to knit and crochet making several crocheted bedspreads and doilies, and knitted afghans. She loved listening to music and playing on her organ.  She enjoyed gardening and canning. Her beautiful flower beds were one of her greatest joys. Clarise always liked to looked nice anytime she would leave the house and loved her weekly shopping trips with her sister-in-law Margaret.
She enjoyed spending time with her families.  She loved any opportunity to visit family and reunions. She loved watching her grandchildren and great-grandchildren grow up and celebrating milestones with them.
She is survived by her son, Larry (Janis) Minikis of Humboldt, Iowa, daughter Lisa (Aaron) Proehl of Minnesota Lake, Minnesota, Son–in-law Dave (Lynn) Nelson of Roland, Iowa, Step sons Duane Johnson and Steven (Brenda) Johnson both of Wells, Minnesota; grandchildren:  Cory (Brandi) Nelson of Ellsworth, Iowa, Christopher (Jen) Nelson of Ames, Iowa, Megan (Grant) Tjernagel of Huxley, Iowa, Trisha (Chad) Minikis-Conklin of West Des Moines, Iowa, Stacy (Josh) McIntire of Thor, Iowa, Tara (Eric) Johanson of Grimes, Iowa, Logan (Zachary) Foty of Delevan, Minnesota, Madison and Quentin Proehl of Minnesota Lake, Minnesota, Ryan (Erin) Johnson of Wells, Minnesota and Rachael (Brian) Sather of Mankato, Minnesota; 19 great grandchildren: Jaydyn, Kelsey, Macyn and Nash Nelson, Anja and Jett Tjernagle, Sophia and Olivia Sather, Payton Foty, Drew, Tate and Mila Conklin, Ava, Zane, Cash and Isla McIntire, and Max, Grant and Ella Johansen; sister-in-law:  Norma Minikis of Des Moines, Iowa along with several nieces and nephews and their families.
She is preceded in death by parents Helmick and Olena Kvale, her first husband, Melvin, her second husband, Andrew, brothers, Leslie, Kenneth, Norman and Harold Kvale, daughter Jayne Nelson, granddaughter Taylor Erin Proehl, great grandchild Carter David Nelson.  Many sisters-in-law, brothers-in-law, and nieces and nephews.