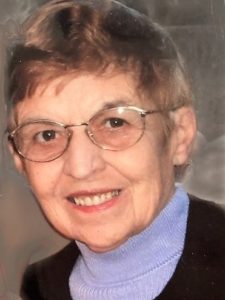 Rose Marie Lenort, age 88, of Wells, MN, died Sunday, October 30, 2022.  A Funeral Service will be held Friday, November 4, at 10:30 AM at Nasinec Funeral Home in Wells, MN, with Father Greg Havel officiating. Visitation will be on Thursday, November 3, 2022 from 4:00 to 7:00 PM at Nasinec Funeral Home (789 Business Park Dr., Wells, MN  56097).  Visitation will continue one hour prior to the service at the funeral home on Friday (9:30 to 10:30 AM). Nasinec Funeral Home in Wells is entrusted with arrangements. Please see www.nasinecfh.com to leave online condolences.
Rosie was born January 3, 1934 in Wells, MN, the eldest daughter of Martin and Ann (Klocek) Yokiel.  She lived in Wells up until September 2015 when she had a major stroke.  She lived the remaining time at Pathstone in Mankato, MN where she passed away.
Rosie connected with generations of students at United South Central School, where she worked in the school cafeteria for 35 years.  She was always baking and had treats at the ready for the kids that visited her. During her summers off from working at the school you would find her in the garage working on her second passion of restoring old furniture and giving it new life or working in her garden. She was an avid sports fan and followed her grandchildren's games.  She loved watching the Minnesota Twins games and would tolerate the Vikings games.  Never hesitating to vocalize her feelings on how they were doing. Rosie was a long-time member of St. Casimir Catholic Church, CCW, and the Wells American Legion Auxiliary.
Rosie is survived by her 2 sons: Steve (wife Nancy) Ulrich of Mankato, Don Lenort of St Charles, MO; 4 grandchildren: Trent (wife Nicole) Ulrich of Prior Lake, MN, Kevin Leintz of Mankato, Tiffany Habinger of Waldorf, MN, Brett Ulrich (fiancé Taylor Schultz) of Owatonna, MN, , MN; 6 great-grandchildren: Alexis and Tate Ulrich, Kaiden and Payton Leintz, Braxton Anderson and Macie Habinger,; sister Bernadette (husband Ray) Smothers, sister-in-law Barb (late husband Lyle) Yokiel, numerous nieces and nephews.
She was preceded in death by her first husband, Melvin Ulrich (1959) and her second husband, Mark Lenort (2004), her parents, Martin and Ann (Klocek) Yokiel, and brother Lyle Yokiel.