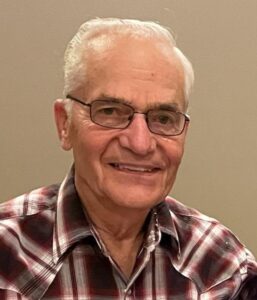 James R Willette, age 83, of Easton, MN, died Thursday, November 17, 2022.  A Mass of Christian Burial will be held Tuesday, November 22, at 11:00AM at Our Lady of Mount Carmel Catholic Church in Easton, MN, with Father Greg Havel and Deacon Gene Paul officiating. Visitation will be held prior to the service on Tuesday, November 22, 2022 from 9:00 to 11:00AM at the church. Interment will be at Our Lady of Mount Carmel Cemetery in Barber Township, Faribault Co., MN. In lieu of flowers, donations preferred to Seasons Hospice in Rochester, MN. Nasinec Funeral Home in Wells is entrusted with arrangements. Please see www.nasinecfh.com to leave online condolences.
James was born March 6, 1939 in Blue Earth, MN, the son of Louis and Mary (Bias) Willette. He attended Dowling High School in Des Moines, IA. James was united in marriage to Carolyn Paul August 22, 1970 at Our Lady of Mount Carmel Catholic Church in Easton, MN.
James is survived by his loving wife of 52 years, Carolyn of Easton; sons: Brad (Lori) of Omaha, NE, Paul (Cindy) of Detroit, MI, and Darin (Rebecca) of N. Mankato, MN; daughter Michele (Bryan) Gorny of Denver, CO; 9 grandchildren: Carter, Logan; Makayla (fiancé Peyton Warner), Mallory, Margaret, and Monica; Paige Gorny; Louis, Greta and, baby Willette due in April 2023; and sister Sharon Ward of Mapleton, MN, along with many nieces and nephews.
He was preceded in death by his parents Louis and Mary; brothers: Richard (Ann) Willette, Marvin (Elaine) Willette; brother-in-law Everette Ward; and nephew Tony Willette.