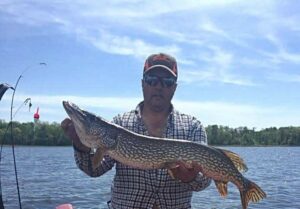 Leslie "Les" Jason Prange, age 47, of Wells, MN, died Saturday, November 26, 2022 in Rochester, MN, after sustaining injuries from an accidental fall.  A funeral service will be held Friday, December 2, at 2:00 PM at Nasinec Funeral Home in Wells, MN with Pastor Peg Marose officiating. Visitation will be held Thursday, December 1, 2022 from 4:00-7:00 PM at Nasinec Funeral Home (789 Business Park Drive, Wells, MN  56097) and will continue one hour prior to the service on Friday. Interment will be in St. Paul's UCC Cemetery at a later date. Nasinec Funeral Home in Wells is entrusted with arrangements. Please see www.nasinecfh.com to leave online condolences.
Les was born December 3, 1974, the son of James and Reva (Brandt) Prange in Wells, MN.  He attended Wells-Easton High School, graduating with the United South Central class of 1993.  He attended Riverland College and was a master electrician with Seneca Foods in Blue Earth, MN.  He was united in marriage to Amy Sue (Holstad) in Nashua, IA on April 13, 2002, to this union three sons were born: Calob, Conner, and Riley. 
Having a strong work ethic and the ability to be a "jack of all trades", Les was known to give of himself selflessly without asking for anything in return.  He loved being outdoors, following in his father's footsteps in his knowledge of trapping, fishing, and hunting. Les enjoyed spending time with his family and friends, particularly in going up north to the cabin with his boys and brother.  He made friends easily and made a lasting impression on everyone he met.  Les will be remembered for his willingness to help others, exemplary trapping skills, bright smile and infectious laugh, as well as the special twinkle in his eyes.  His sons were his pride and joy.  He loved them with all his heart.
Les is survived by his wife Amy, 3 sons: Calob, Conner and Riley Prange; mother Reva Prange, siblings, Lisa (John) Cain of Wells, Loren (Becky) Prange of Minnesota Lake and Linda (Joe) Moravec of Waterville, MN; brother-in-law Steve (Stacey) Holstad of South St. Paul; and sister-in-law Terri Meyer of Lake Mills, IA.    
He was preceded in death by his father James; father-in-law Stanley Holstad; mother-in-law Barbara Holstad; grandparents, uncles, and aunts.