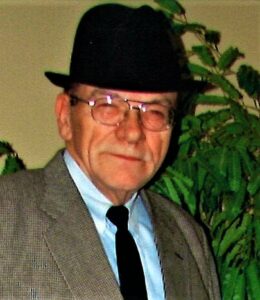 Kenneth James Mosser, age 81, of Wells, MN died Sunday, March 19, 2023 in Cannon Falls, Minnesota. A Graveside Service will be held Wednesday, March 22, 2023 at 10:00 AM in St. John the Baptist Catholic Cemetery in Minnesota Lake with Father Greg Havel officiating.  Visitation will be held Tuesday, March 21, 2023 from Noon-3:00 PM at Nasinec Funeral Home in Wells, MN.  Military Honors will be accorded by the Wells Color Guard and Minnesota Lake American Legion. Nasinec Funeral Home in Wells is entrusted with arrangements. Please see www.nasinecfh.com to leave online condolences.
Kenneth James was born April, 13, 1941 the son of August Leo and Sally Emilia (Dylla) Mosser in Minnesota Lake. He completed 9 years of school at Minnesota Lake Public Schools and 1 year at the Mankato Vocational Institute, for welding. Ken served for 3 three years in the U.S. Army in Armor, Ordinance and Signal.  Ken lived in Minnesota Lake until he was 35 years old. He then moved his family up north to Clarissa, MN and lived there for 30 years. Ken moved back to Wells from Clarissa, MN in 2003. He was a Life Member of the American Legion, Post #293 in Browerville, Minnesota, a member of the National Rifle Association, and a Member of the Rifle and Pistol Club and the Wells American Legion in Wells, Minnesota. Ken was on National TV, Radio, and in many News Papers in the U.S. demonstrating his Pyramid Power, and U.F.O. Detector. He had 6 U.S. patents, and 3 U.S. Copyrights on his inventions. Ken did inventing, patenting, drafting, designing, sculpting, art work, photography, carpentry, welding, model aircraft building, model rocket building, for George L. Herter, of Herter's, Inc., in Waseca, Minnesota, and drafting, photography, and jig building, for Harley Rock Picker, Inc., in Clarissa, Minnesota. Ken also liked hunting and fishing, and travelling in and out of the U.S. for Herter's, Inc.
Kenneth is survived by his brother August Fay Mosser and his wife Romayne A. Mosser, and their son: Jeffrey S. Mosser, and his wife: Allison E. Mosser, his son: Lt. Col. James Alan Mosser, and his wife: Patricia L. Mosser, and his three sons': James K. Mosser, Jesse J. Mosser, and Wyatt J. Mosser, his daughter: LPN. Sonja Jane Thatcher, and her husband: William J. Thatcher, and her three kids: Christopher A. Gadbaw, Adam J. Gadbaw, Tiffany R. Doehling, and her son: Tylar A. Doehling, and companion of 10 years: Gina Jacobson of Truman, MN.
He was preceded in death by his parents, his daughter Kimberly Kay Mosser, and his wife of 34 years of marriage, Janet Kay (Lunning) Mosser (1998) also by Ken's fiancée: Lillian R. Janske.