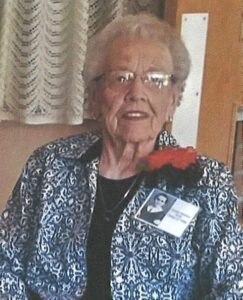 Leota Ruth (Hansen) Dahl, age 101 years, 10 months, and 9 days, formerly of Bricelyn, died Monday, May 8, 2023, at Parkview Care Center in Wells, MN. The Memorial Service will be held Thursday, May 18, 2023, at 11:00AM at Nasinec Funeral Home in Wells, MN with Pastor Dan Foster officiating. The service will be livestreamed on Nasinec Funeral Home's Facebook page.  Visitation will be held Wednesday, May 17, 2023 from 4:00-7:00PM at Nasinec Funeral Home (789 Business Park Drive, Wells, MN 56097) and will continue one hour prior to the service at the funeral home on Thursday (10:00 to 11:00AM). Interment will be in Fairview Cemetery in Kiester, MN. Nasinec Funeral Home in Wells is entrusted with arrangements. Please see www.nasinecfh.com to leave online condolences. (Please go around the "Closed Road Signs" to arrive at Funeral Home)
Leota Ruth Hansen was born on the family farm June 29, 1921, the daughter of Nels and Bernice (Buchman) Hansen. She grew up on her family's farm, southwest of Bricelyn, MN with her three siblings; Inez, Robert, and Dale. Leota was baptized by sprinkling on October 14, 1923 at the Church of the United Brethren, in Kiester, MN and again by immersion on December 18, 1923 at the First Baptist Church in Bricelyn, MN. Leota was a member of the Seely Township 4-H Club for 10 years, winning several trips to the State Fair. She won for sewing, bread baking, and baking pies. The records show that in 1940, she baked 373 loaves of bread and 42 pies, and won an award which took her to the National Cherry Pie Contest in Chicago, IL where she placed fifth in the nation in February of 1941. During her 4-H years, Leota was named "The Healthiest Girl" in Faribault County but declined to take the State Fair Trip so that she and her sister, Inez, could go together with their joint clothing demonstration.  Leota attended one room country school district #86 (Jelle School) through 6th grade. She graduated as an honor student at the age of 16 in 1938 from Bricelyn High School where she was salutatorian of her class. After graduation from high school, she worked at Bricelyn Telephone Company for the Wilcox family, Balzer's Grocery, and the Unique Theatre. During WWII, Leota lived in San Diego, CA and worked as a clerk-typist in the offices of Consolidated Aircraft. Leota was united in marriage to Gerald William Dahl on March 5, 1944 on her parent's farm, to this union four daughters were born. After marrying Gerald, she raised her four daughters and sewed draperies for Westerlund's and Renkley's Furniture and the Décor Den, in Kiester for over 20 years. Leota also designed and sewed custom wedding and bridesmaid dresses, including making her three oldest daughters' weddings gowns, cheerleading uniforms, and horse show apparel.  Leota kept diaries on road trips, writing down the miles, gas prices, names of hotels, and the day's events. Leota had the ability to remember each family member's favorite Christmas food and would make sure it was served at Christmas Dinner.  Leota served as the secretary/treasurer of the Kiester Valley Saddle Club, was a charter member of Minnesota-Iowa Arabian Horse Club, served on the Fairview Cemetery Board and was a general and project leader of the Kee 4-H Club. She served as a President, Secretary and Treasurer for the Ruth Circle, all at Grace United Methodist Church, a Sunday School teacher and as a Vacation Bible School teacher. Leota made HUNDREDS of cookies for the Grace United Methodist Cookie Fair, as well as making most of the Christmas quilts, which were raffled off.  She was featured in the "Country Woman" magazine for the Christmas quilts she made for her four daughters. She spent over 25 years in a row, on Mother's Day, at a horse show, without complaint and was a featured amateur in the Arabian Horse Times magazine.  Later in life Leota loved watching her satellite television. She lived in the Bricelyn, Mansfield and Kiester areas her entire life until she entered Parkview Care Center in September of 2020.
Surviving Leota are her daughters: Dixie (Calvin) Kooiker of LeMars, IA, Cindy (Lyle) Hilbrands of Buffalo, MN, Candy (Sam) Richmond of Cedar Falls, IA, and Lesa (Craig) Leland of Bricelyn, MN; grandchildren: Michelle (Tom) Anderson of Rockford, MN, Jason (Amy) Kooiker of Sioux Falls, SD, Jared (Ann) Kooiker of Woodbury, MN, Ryan (Kate) Richmond of Cedar Falls, IA, and Lindsy (Corey) Krienert of Traer, IA; great-grandchildren: Nathan Anderson of Salt Lake City, UT, Kelsey Anderson of Mankato, MN, Tyler Anderson of Duluth, MN, Gabe and Jameson Richmond of Cedar Falls, IA, Cole Kooiker of Sioux Falls, SD, Andrew and Tobin Kooiker of Woodbury, MN, and Rachel, Maverick, Kruz, and Easton Krienert all of Traer, IA; along with many nieces, nephews, and their families.
Leota is preceded in death by her parents; husband, Gerald (1978); grandson, Brent Hilbrands; siblings: Inez (Carnes) Jensen, Dale (Colleen) Hansen and Robert Hansen (Maxine Wolfe Hansen Karlberg); nephew, Charles Jensen; and many other relatives and friends.