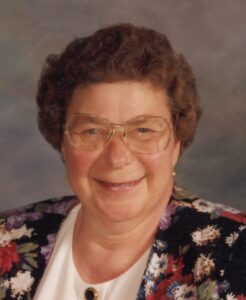 Lorraine Nelsine Obermeyer, age 83, formerly of Kiester, MN died Wednesday, May 10, 2023 at the Estates at Delano in Delano, MN. A Funeral Service will be held on Tuesday May 16, 2023 at 10:30 AM at Nasinec Funeral Home in Wells, MN with Pastor Josh Enderson officiating. Visitation will be held Monday May 15, 2023 from 4:00-7:00 PM at Nasinec Funeral Home (789 Business Park Drive, Wells, MN), and will continue one hour prior to the service. Burial will be in Our Savior's Lutheran Cemetery, Kiester, MN.  Nasinec Funeral Home in Wells is entrusted with arrangements. Please see www.nasinecfh.com to leave online condolences.
Lorraine Nelsine Westerlund was born February 13, 1940, the daughter of Dutch and Ella Westerlund in Lakota, IA. She graduated from Bricelyn High School, the class of 1958. She met Owen while roller skating at the local rink. Lorraine was united in marriage to Owen Dean Obermeyer in Bricelyn, MN on August 24, 1958.  Together, they had 3 children. She was a busy farm wife who enjoyed gardening, canning fruits and veggies, adult coloring books, sewing and embellishing shirts & jackets, listening to many kinds of music from Elvis, Patsy Cline, Tavana Drum music from Hawaii, to Abba, which was almost wore out! She enjoyed dancing to Old Time music at the Golden Bubble with family and friends. Laughter, visiting, and being around friends were so important to her. A fresh pot of coffee and a pan of homemade cinnamon rolls were always ready to share while visiting around her dining room table. "My kitchen table is for sharing with family, friends, and neighbors, the front room is for when company comes over" she would say. Lorraine was an active member at Our Savior's Lutheran Church and a grateful member of Alanon for 36 years. The friendships formed there meant so much to her. She enjoyed recovery fellowship activities of Potlucks, hayrides & stone soup, Holiday candlelight services, and AA conventions. From "family members by choice" to unrelated friends who called her "MA", she always had time to listen and a hug and smile for all.
Lorraine is survived by her children: Verlie (Wayne) Brandt of SD, and their daughter, Jamie Brandt, Karen (Timothy) Babb of Mound, MN, and Dean (Alice) Obermeyer of Newnan, GA; sister-in-law: Sandy Obermeyer of Bricelyn, MN and; along with many nieces, nephews, and their families.
She is preceded in death by her parents; husband Owen (2014); and brother Lawrence "Bucky" Westerlund; sister-in-law:  Catherine Olson of Blue Earth, MN; brothers-in-law: Eugene "Gus" Obermeyer and Wane Obermeyer.