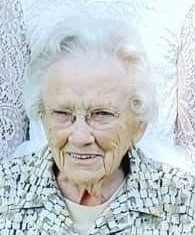 Marcella (Sally) Linda Erickson, 98, of Brush Creek, MN, died Friday, May 19, 2023 at United Hospital District in Blue Earth, MN.  The Funeral Service will be held Tuesday, May 23, 2023 at 11:00 a.m. at North Blue Earth Lutheran Church in Bricelyn, MN. Visitation will be one hour prior to the service at the church. Interment will be in in the church cemetery.
Nasinec Funeral Home in Wells is entrusted with arrangements. Please see www.nasinecfh.com to leave online condolences.
Marcella (Sally) Linda was born July 23, 1924 in Clark Township, Faribault County, MN, the daughter of Henry and Caroline (Meyer) Quade. She graduated from Wells High School in 1940 at only 16 years old. After graduation she worked for many years at Wells Federal Savings & Loan and the Wells Drug Store. On March 21, 1951, she was united in marriage to Orvis Erickson at North Blue Earth Lutheran Church. Their wedding was delayed three days due to a snowstorm. They made their home outside Brush Creek across the road from the church where they were married and where they welcomed five children, Nancy, Ron, Linda, Robert and Diane. Orvis farmed the family farm and Sally raised their children. When her children were young, the family gathered every Saturday night at her parent's home in Wells with her sisters' families to watch Lawrence Welk while the cousins played upstairs. She enjoyed creating countless quilts including special blue jean quilts for the grandchildren, reading, Bible study, cross stitch and the family crafts made at each holiday gathering with her sisters' families. Orvis and Sally spent many years wintering in Apache Junction, AZ. After Orvis' death, Sally stayed on the farm and even mowed her own lawn into her '90s. The third Tuesday of every month, she kept her calendar free for Birthday Club with the ladies of Brush Creek. For the past 15 years, one of her greatest joys was spending time with her great-granddaughters, Carissa, Elise, and Maddie, reading to them, attempting to get them to nap and teaching them how to bake her famous brown cookies, yellow cake with chocolate frosting and rhubarb pie, of course with homemade crust! Sally was proud to be the oldest member of North Blue Earth church and was still helping in the kitchen in her '90s.
Sally is survived by her children: Nancy (David) Johnson of Hillsboro, ND; Ron (Janis) Erickson of Atkin, MN; Linda (Steve) Milbrett of Bricelyn, MN; and Robert Erickson of DelNorte, CO; seven grandchildren: James(Sarah) Erickson, Emily (Matt) Walker, Brian (Amy) Gullikson; Katie Hanson, Ryan Klingbeil (Kate Nippert), Eric Klingbeil (fiancé Kristina Neese) and Anthony Oldfather; and nine great-grandchildren: Isaac Erickson, Carissa Hanson, Freya Erickson, Elise Hanson, Madeleine Hanson, Sam Walker and Eloise Walker, Karina and Miles Gullikson; along with many nieces, nephews, and their families.
She was preceded in death by her parents, husband Orvis (2002), daughter Diane (1990), son-in-law Glenn Gullikson (2009), and all four of her sisters and their husbands.