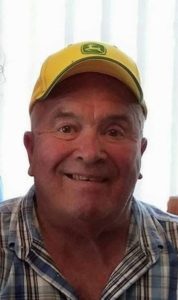 Ronald Joseph Neubauer, age 77, of Freeborn, MN, passed away Sunday, November 21, 2021 at St. Mary's Hospital in Rochester, MN. A Mass of Christian Burial will 10:30 AM, Saturday, November 27, 2021 at St. Casimir's Catholic Church in Wells, MN with Father Greg Havel officiating. Visitation will be Friday, November 26, 2021 from 4:00-7:00 PM with a prayer service at 7:00 PM at Bruss-Heitner Funeral Home in Wells, MN. Visitation will continue one hour prior to services at the church.  Military Honors will be provided by the Freeborn American Legion Post.
      Ronald Joseph was born May 25, 1944 son of Joseph and Beatrice (Bach) Neubauer. He lived his entire life on the farm just outside of Freeborn, aside from his service in the Army National Guard.  In 1977 his sister, Sandy, introduced him to the love of his life, Evelyn (Ripka), who he married June 13, 1978.  Together they raised four wonderful children.  He was a member of the American Legion for over 50 years, serving several years as the Commander of the Freeborn Legion and participating in Color Guard.  He was a devout member of St. Casimir's church in Wells and Knights of Columbus.
When he wasn't farming, he took time to go hunting and fishing with his kids and grandkids, give John Deere tractor and gator rides, and go tractor pulling. There was no bigger kid in the family, as he could hardly wait to open presents no matter the occasion, play pranks and April Fool's jokes on those he loved, and tell stories that made you feel as though you were living right along with him.  He was someone you could always count on and will be greatly missed by all who knew him.
     Ron is survived by his wife Evelyn Neubauer of Freeborn, MN; children: Peggy (Korey) Moellers of Shawnee, KS,  Dawn (Ryan) Moore of Owatonna, MN, Joe (Kayla) Neubauer of Freeborn, MN, Mike Neubauer of Freeborn, MN; grandchildren: Masen (Khoi Troung) Neubauer, Katelyn (John) Andera, and Jack Moellers; Evan and Owen Moore; Emilie, Lucy, Brock and Colt Neubauer; Great Grandson: Beau Andera; sisters: Geri (George) Peyton of Fridley, MN and Sandra Anderson of Freeborn, MN; many nieces, nephews, cousins and their families.
     Ron was preceded in death by his parents; brother in infancy Dale Neubauer; In-Laws: Anton and Alma Ripka, Dick Ronningen, Larry Ripka, Joyce Weeks, Richard and Anna Finger.