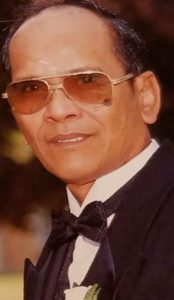 Ernesto Salas, age 80, died Saturday, May 7, 2022 surrounded by his family at Mayo Clinic Health Systems in Mankato, MN. A Memorial Service will be held Friday, May 20, 2022 at 11:00 AM at Nasinec Funeral Home in Wells, MN, with Father Greg Havel officiating. Visitation will be one hour prior to the service at the funeral home.  Nasinec Funeral Home in Wells is entrusted with arrangements. Please see www.nasinecfh.com to leave online condolences.
Ernesto was born November 9, 1941 in Manila, Philippines the son of Ponciano and Victoria Salas. He was united in marriage to Angelita Diokno August 11, 1963 and to this union six children were born. Ernesto enjoyed fishing, playing poker and Mahjong and cooking with his family. He liked to travel to flea markets and visit friends in Rochester, MN.  He especially enjoyed visiting with his family and watching his grandchildren play.
Ernesto is survived by his 6 children:  Emily (Thad) Amberg of Wells, Edith (Tony) Gonsalez of Wells, Eddie Salas of the Philippines, Erlinda (Mike) Shepherd of Wells, Ester (Kevin) Freeman of Murray, KY, Elsie Derstine (Nick Eicholz) of Wells;  18 grandchildren:  Jeremiah Amberg, Zach Amberg, Seth Amberg, Kirsten (Garrett) Mensing, Roan (Chance) Kimpton, Rana Robledo, Ernest (Diana Adamson) Robledo, Andrew Salas, Angie Salas, Melinda (Jeff Schellenberg) Shepherd, M.J. Shepherd, Jonathan Higgins, James Higgins, Jordan Higgins, Matthew Freeman, Ryan Yanson, Semantha Hong, Semuel Hong, and 18 great grandchildren; Eli, Liam, Myla, Merryck, Maezyn, Taya, Apollo, Rutledge, Mason, Carter, Ansley, Ayla, Beau, Emery, Tyson, Eva, Zylin, and Yameah.