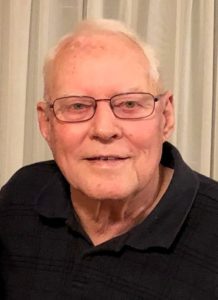 Harold Gene Niebuhr died May 10, 2022 after more than a 30 year battle with diabetes and heart disease.  Harold lived in the Wells area his entire life until September 2021 when he and Karen moved to New Perspectives Senior Living in Mankato.  Harold was born February 22, 1933 to Herbert and Adella (Strehlow) Niebuhr he was 89 years old. His life was full.  Visitation will be held Monday, May 16, 2022 from 9:30 to 11:00 AM prior to the service at Good Shepherd Lutheran Church, Wells. Burial will be in Rosehill Cemetery, Wells MN. Nasinec Funeral Home in Wells is entrusted with arrangements. Please see www.nasinecfh.com to leave online condolences
During his life time Harold had several occupations.  He farmed for many years, raising cattle & hogs, corn & soybeans until a serious heart attack, at the age of 52 took its toll. His next venture, which he very much enjoyed, was driving semi and seeing the countryside. He also served his community as a member of the Lions, Jaycees, Pork Producers, Good Shepherd           Church and he was especially proud of his 28 years as the township clerk.  He enjoyed activities such as dart ball, horseshoes, golfing, and fishing.
Harold and Karen were married May 6, 1958 celebrating 64 years of marriage just last week.  They made their home south of Wells where they farmed and raised their family.  Harold also enjoyed auctions and collecting things.  He had several collector cars and tractors.  You could often find Harold in the garage listening to old time music and tinkering with something. They moved into town in 2001 where they lived until last fall.  Harold and Karen enjoyed traveling with friends including a memorable trip to Germany to explore the Niebuhr heritage and visiting the original family farm.
Harold is survived by his wife, Karen (Geldner) Niebuhr; their 3 sons, Brian (Natalie) Niebuhr, Brett (Dynette) Niebuhr and Darin (Karen) Niebuhr; seven grandchildren, Heather (Anthony) Schutte, Shannon (Jason) Barnes, Dustin (Sara) Niebuhr, Spencer (Meg) Niebuhr, Riley (Kelly) Niebuhr, Simon Niebuhr & Kelby Niebuhr; three step-grandchildren; eleven great-grandchildren; sister LaDonna Nelson, brother and sister in-law Duane (Judy) Niebuhr; brother and sister in-law Charles and Gerry Schleeve and seven nieces and nephews.
He was preceded in death by his parents, Herbert and Adella Niebuhr and brother in-law James Nelson.