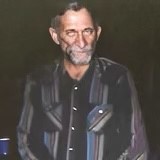 Brian Larry Giese, age 71, of Wells, MN died Saturday, June 4th at his home. A funeral service will be held at Good Shepherd Lutheran of Wells Thursday, June 9, 2022 at 11:00 AM with Pastor Scott Olson officiating. A public visitation will be held one hour prior to the service at the church. Burial will be in St. Peter Lutheran Church Cemetery in Easton, MN. Nasinec Funeral Home in Wells is entrusted with arrangements. Please see www.brussheitner.com to leave online condolences.
Brian was born in Easton, MN on November 22nd, 1950 to Ferd and Viola (Meyer) Giese. Brian was one of eight children and was born very premature, he could fit in a shoe box as a baby. Although Brian was handed some very difficult cards in life, he was a gentle man with a kind heart! He would give the shirt off his back for friends or family. Brian enjoyed spending his spare time assisting area farmers with an extra set of hands. Brian enjoyed spending time with his friends, family and especially his dogs that were like humans to him, Snoopy, Louie and Henry; they were his best friends.
Brian will be missed dearly by his sister, Darla (Jack) Horntasch of Wells; brother, Glen (Barb Albers) Giese of Wells; nieces and nephews LaDonna (Paul) Lange, Kevin Goodrich, Cindy Anderson, Julie Goodrich, Tim (Val) Sailor, Larry (Pam) Sailor, Vicki Sailor, Dawn (Doug) Stanger, Darrin Troff, Duane Troff, Craig (Ellie) Giese, Byron Giese, Tammy (Anthony) Chase, Ami (Dan) Hart, Angie (Brandon) Voigt, Tina (Ken Schroeder) Giese, Jay Giese, Jeff (Kim) Giese, Nathan Giese (Sandra Panning), Christin Johnson (Pat Wagner), Dezeray Sanders, Shantel (Dylan) Hart; his beloved dog Henry; many great nieces and nephews and great-great nieces and nephews; and special nurse Jane.
Brian is preceded in death by his parents, siblings Wayne Giese, Bill (Sandy) Giese, Ken Giese, Darlene (Darryl) Troff, Betty (Don) Goodrich, brother-in-law Wayne Sailor, niece Tiffany Giese, nephew Darell Goodrich and his beloved dogs Snoopy and Louie.
The family would like to thank Dr. Johnson and all the staff that assisted in his care over the past 2 years with such dignity and respect.