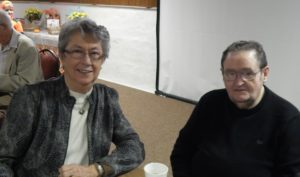 Bernadine Edna Meyer, age 78, of Wells, MN died Tuesday, December 15, 2020 at St. Mary's Hospital in Rochester, MN from complications of Covid-19. Edwin F. Meyer, age 86, of Farmington, IL died Sunday, June 5, 2022 at Graham Hospital in Canton, IL. Visitation will be one hour prior to the service at Nasinec Funeral Home (9:30-10:30 AM).  The Memorial Service will be held at Nasinec Funeral Home in Wells, MN to celebrate the lives of Edwin and Bernadine Meyer on Saturday, June 18, 2022 at 10:30AM. Officiating will be Pastor Hilary Korynta. Interment will be in Fairview Cemetery in Kiester, MN. Nasinec Funeral Home in Wells is entrusted with arrangements. Please see www.nasinecfh.com to leave online condolences.
Bernadine was born Dec. 15, 1942 in Walters, MN, the daughter of Frank and Edna (Witte) Bauman. She was a graduate of Kiester High School. Edwin was born September 19, 1935 in Kiester, Minnesota to Eldo and Fern (Woollard) Meyer. The couple were married in April of 1964. Bernadine held several different positions, including teller positions at local banks, patient care and housekeeping. Her final position before her retirement in February 2020 was Head of Housekeeping at The Shepherd's Inn in Wells, MN. She was known for her potato salad and pumpkin pie. She enjoyed crafts, decorating, and spending time with her family. Edwin worked in retail meat processing for over 35 years and the couple purchased Meyer Meats in LaFayette, Minnesota owning and operating the store for 14 years. Edwin served a term on the LaFayette City Council.  He loved fishing and spending time with his family. The couple were active and faithful members of Wells Assembly of God Church.
Bernadine and Edwin are survived by son, Drew Meyer of Owatonna, MN; daughter, Kelli (Bill) Clayton of Farmington, IL; grandson, Ryan Tackman (Dakotah Slater) of Elmwood, IL; Bernadine's sister, Darlene Krohnberg of Ellendale, MN; and sister-in-law, Janet Bauman of Walters, MN; nieces and nephews and their families, and many, many friends.
They are preceded in death by their parents; Bernadine's brother, Eugene Bauman; Edwin's twin brother, Edward Meyer; and his two sisters, Betty Klocek and Eleanor Verdoorn, and a brother-in-law, Lowell Krohnberg.