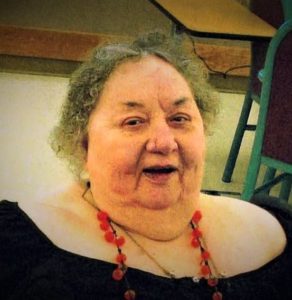 Sharon Elaine Hodge, age 77, died July 18, 2022 at the Mapleton Community Home in Mapleton, MN. A private burial will be at the Minnesota Lake Catholic Cemetery at a later date. Nasinec Funeral Home in Wells is entrusted with arrangements. Please see www.nasinecfh.com to leave online condolences.
Sharon was born February 21, 1945 in Minnesota Lake, daughter of Daniel and Phyllis Hodge. She was one of ten children born to the couple. Sharon was Baptized, received First Communion and Confirmed at St. John The Baptist Catholic Church in Minnesota Lake, MN. Sharon was also a member of the St. Casimir Catholic Church of Wells, MN. Sharon was known to some as, "Kidda" or "Doc". After high school Sharon moved to Highwood, Illinois where she met the love of her life, Fred Smith. Fred was stationed at Fort Sheridan Army Post, Fort Sheridan, IL. After Fred received an honorable discharge, they moved to Wells to be closer to family and neighbors. Sharon especially loved to be with Aunty Jo (Josephine Schultz). Sharon worked in a number of restaurants in Illinois and Minnesota and she was a fry cook at Virginia's Café in Highwood, IL.
Sharon is survived by Sylvia (Steve) Hodge of Moor Park, California; Angela (Ronald) Miller of Albert Lea; Mary Eytcheson of Wells; Brad and Brian Hodge of Minnesota Lake and Randy Hodge of Mapleton.
Sharon is preceded in death by her parents Daniel and Phyllis Hodge; Daniel (Carol) Hodge of Wells; Carolee (Jerry) Heikkenen of Highwood; Shirley (Donald) Schimmele of St. Cloud; and her lifetime partner of 43 years, Fred Smith.
Thank you to the Mapleton Community Home and staff for the wonderful care and fun for so many years. They really went above and beyond especially during Covid when family could not visit. Also special thanks to Nasinec Funeral Home in Wells for taking care of Sharon's arrangements and for helping our family through the rough times.