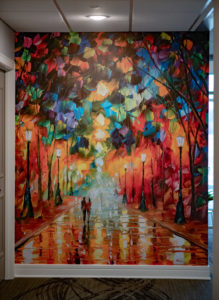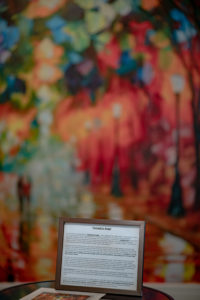 A Space to Share
When Sue asked me about helping lead a grief support group, and I was instantly interested. I have never been a part of one, nonetheless led one, but I have become passionate about understanding grief. I haven't lost my husband or my parents. But the world that we live in today is such that I see a theme. That being, loss. We have experienced so much loss in the last 2 and half years due to the pandemic, I think every person I come in contact with on a daily basis is dealing with grief in one way or another. That woman in the grocery store check-out lane, that teenage boy riding his bike around town. Our world was and still is for some been flipped on its head. I don't think we as a society can just "get-over" such monumental change in a short amount of time. For those who lost loved ones during the pandemic I think the loss was especially hard to process.
So, we looked at some manuals and books on grief and we dived in! Seven weeks of a weekly meeting for an hour and a half on a Tuesday Evening. We had a very nice group of people who had lost mothers, fathers, and spouses. We took intentional time to listen to each person share, each week. We had ground rules such as; not to interrupt while someone was sharing, not to try and fix someone else by giving lots of advice, and not to gossip about what was shared. There were worksheets to help frame what we were dealing with and sharing about. People brought mementos to celebrate their loved one who had passed. We saw pictures of a cleaned out shed, and heard how much of a win that had felt like. We "oh and awed" at a framed puzzle the loved one had finished that represented the couple's love for visiting presidential libraries. We cheered on one person who listed their house for sale and moved closer to work. We laughed until tears rolled, hearing about a large number of cats on a property in the country. We held space for each person to share about their life. It was not the most profound or earth-shattering new idea of what to do with a person's Tuesday evening, but it did feel like one of the most powerful and important things that needed to happen with that time.
At the end of our seven weeks, we asked people to share what was one of the most impactful parts, and more than a few people agreed it was simply sharing their story, and then in turn hearing other people share who were walking through something so similar.
Every night when I left that meeting I was so filled with gratitude for life. Amazed at how precious it is, and how short 40 years of marriage can feel. I knelt on the carpet of my living room and hugged my sweet 2-year-old who was playing and soaked up her smell, her smile, and her antics. My frustration from earlier in the day when she was fighting with her sister was all but forgotten.  Life is precious, and loss is to be felt deeply.
This grief support group was a gift to me that I will not soon forget.
"You're blessed when you feel you've lost what is most dear to you. Only then can you be embraced by the One most dear to you." -Jesus in the book of Matthew. (Message version)