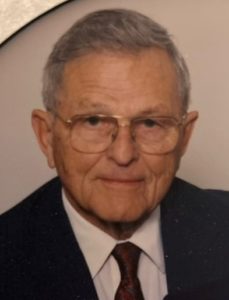 Gordon Albert Hansen, educator, coach, community servant and the anchor of his family, died peacefully in his sleep on August 18th, 2022 at the age of 100. Affectionately known as "Gordy" by his many friends, a longtime resident of Wells, MN, Gordon died in his home in Eden Prairie, MN with his family close by.
Gordon Albert was born on February 26th, 1922 in Roseau, MN, the son of Nels Albert Hansen and Emma (Dahlquist). He was raised in Zumbro Falls, MN and graduated from Lake City High School before attending and graduating from Winona State University.  Gordon graduated with a degree in secondary education; he was a standout football player at the quarterback position.  He was drafted by the Pittsburgh Steelers but instead volunteered for Midshipman School at Northwestern University as World War II began.  During the war, Gordon served in the Navy from 1943-1946; he was a Commanding and Executive Officer on Navy destroyers in the South Pacific.
After World War II Gordon returned to southern MN and began a long career in public education. He was a compassionate and talented teacher, first in Adams, MN beginning in 1947, teaching various subjects. He also coached football, finishing two seasons in Adams with undefeated teams.  Gordon obtained a Masters Degree in school administration.  It was in Adams where Gordon met another teacher, who would become the love of his life.  Lorraine (Torgerson) became Gordy's "best buddy" for 62 years of marriage after the pair were married in 1948.  The couple had 3 daughters:  Susan, Karen, and Diane. In 1960 the family moved to Wells, where Gordon served as Superintendent of Schools for the next 29 years.  Gordon oversaw the creation and merger of Wells into the current USC district. After his retirement in 1989, June 30th was enshrined as Gordon Hansen Day in the town.
Gordon and Lorraine had wonderful times together through the years:  they travelled regularly including to Scandinavia and even led tourist groups in San Antonio and Phoenix.  Gordy and Lorraine loved the Minnesota State Parks.  As Lorraine's health diminished Gordon remained her steadfast partner, caring for her at their home in Wells.
Ever generous with his talents, resources, jokes and smiles, Gordon never turned down an opportunity to help someone in need or take a trip to the Dairy Queen.   Whether cheering someone up by buying them an ice cream cone or "helping old people do their taxes," generosity and service was a guiding principle in his life. He was active in Lions and Kiwanis Clubs as well as various church groups at Good Shepherd including Promise Keepers.
Even into his 90s Gordon continued his involvement in Meals on Wheels and various outreach groups.  A quietly proud veteran, Gordon and long-time friend Maynard Heitner spearheaded the design, fundraising and building of the inclusive Area Veterans Memorial Park in Wells to honor others who have served our country.
An athlete and an avid outdoorsman, Gordon stayed physically active until the end of his life. He was a charter member of Wells' jovial group "Swim Team USA," he regularly played golf with his many friends, and excelled at the game of tennis, winning several titles at annual Wells Mixed Doubles tennis tournament.  He enjoyed fishing trips for walleye with his friends and grand-kids in Minnesota and Ontario lakes; he loved a shore lunch or a picnic in a park; he was a strong cribbage player.
Gordon is survived by daughters Susan (Tom) Collins of Dallas, TX and Diane Hansen of Delano, MN, grandchildren Gordy (Erika) Collins, Loren Collins, Tommy (Jessie) Collins, and Karen Collins, and great grandchildren Arthur, Annabel, Amelia, and Bonnie.
He was preceded in death by his parents; his true love and wife Lorraine Hansen (2009); as well as his beloved daughter Karen Hansen (2021) and his older brother Merwin "Merv."
A celebration of Gordon's rich and fulfilling life will be held Friday, August 26th, 2022 at 11:00 AM at Good Shepherd Lutheran Church in Wells, MN, with Pastor Don Rose officiating. Visitation will be held one hour prior to the service at the church (10:00-11:00 AM). Burial will be in Rosehill Cemetery in Wells, with full military honors accorded by the Wells Color Guard. Nasinec Funeral Home in Wells is entrusted with arrangements.
In lieu of flowers, donations can be made to the Area Veterans Memorial Park.