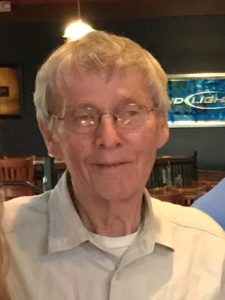 Emil W. Hueper, age 85, of Mankato, formerly of Wells, MN died Monday, August 22, 2022 at Birchwood Cottages in North Mankato, MN, where he resided the past several years. Visitation will be held Friday, Aug. 26, 2022 from 5:00 to 7:00 PM at Nasinec Funeral Home and Crematory (789 Business Park Dr. Wells, MN  56097) and will continue one hour prior to the funeral at church on Saturday.  A funeral service will be held at Peace United Church of Christ in Minnesota Lake, MN at 10:30 AM on Saturday, August 27, 2022 with Pastor Joy Bruder officiating. Burial will be in Peace Cemetery in Minnesota Lake, MN.   Nasinec Funeral Home in Wells is entrusted with arrangements. Please see www.nasinecfh.com to leave online condolences.
Emil William was born June 2, 1937 in Wells, MN, the son, and one of seven children born to Emil and Emma (Renkley) Hueper. He was united in marriage to Sharon Laura Zabel on February 5, 1956 in Minnesota Lake and to this union 4 sons were born.  Emil was a life long farmer who enjoyed fishing with his buddies in Alaska.  Fishing, riding his motorcycle and being with his family were favorite things to do.  He was a member of Peace United Church of Christ in Minnesota Lake.
Emil is survived by his four sons: Mark Hueper (special friend Judy Johnson) of Wells, Bret (Marla) Hueper of Eden Prairie, Bruce Hueper of Waconia, and Mike (Jessica) Hueper of Minnesota Lake; grandchildren: Tara, Kyle, Kory; Ben (wife Meghan), Shelby, Ryan (wife Jessica), Emil John, Olivia, and Emilia; 1 brother: Charles (Shirley) Hueper of Wells; sisters-in-law: Willa Engelrup, Pat (Larry) Thompson, Pam Demarce, Lorraine Hueper, Ann Hueper; along with many nieces, nephews and their families.
He was preceded in death by his parents; wife Sharon (2006); sisters: Jeanette Offerson, Betty (Gaylord) Korman and Shirley Hueper; brothers: Arlo Hueper, Don Hueper and Dave Hueper; and brother-in-law Gerald (Jeannine) Zabel.