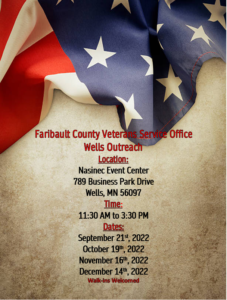 Faribault County Veterans Service Office
Wells Outreach
Location:
Nasinec Event Center
789 Business Park Drive
Wells, MN 56097
Time:
11:30 AM to 3:30 PM
Dates:
September 21st, 2022
October 19th, 2022
November 16th, 2022
December 14th, 2022
Walk-ins Welcomed
Services Provided
To act as an advocate and provide resources to the veterans of Faribault County, their families and/or their survivors by assisting them in obtaining a better standard of life by utilizing the benefits they are entitled to under the law.
Our office is staffed 8:00am to 4:30pm, Monday through Friday. Veterans Services provides advice and assistance for veterans or their families filing claims for state and federal veterans' benefits, social security supplemental income benefits, and other public and private programs. Our office is staffed by CVSO Jenna Schmidtke and Administrative Assistant Ellen Skaden.
Faribault County Veterans Services is committed to ensuring that all veterans and their families living in Faribault County who seek our assistance are provided quality service when it comes to benefits for veterans and their dependents. Our services are Free.
We consider our office a one-stop shop to apply for all Veterans Administration benefits (state and federal). For an appointment, call (507) 526-6268.
Federal Benefits
1. Disability Compensation – is a monthly payment made to a veteran who has incurred a service-connected disability rated at 10% or more while in the military or who has aggravated a pre-existing condition rated at 10% or more. The Federal Veterans Administration also assists in adapting homes and/or automobiles for veterans who are totally and permanently service-connected disabled.
Eligibility Requirements
Disability
Active Military Service (other than Dishonorable):

Active Duty; and
Any period of active duty for training during which the individual concerned was disabled or died from a disease or injury incurred or aggravated in line of duty; or
Any period of inactive duty for training during which the individual concerned was disabled or died from an injury or aggravated in line of duty.
2. Dependency and Indemnity Compensation (DIC) – is a monthly payment made to surviving spouses (who have not remarried – see below), unmarried minor children (under 18), helpless children, children between the ages 18 and 23 if attending a VA-approved school and also to low-income parents of deceased servicemembers or veterans.
Eligibility Requirements
The deceased servicemember must have died from:
A disease or injury incurred or aggravated while on active duty or active duty for training; or
An injury incurred or aggravated in the line of duty while on inactive duty training; or
A disability compensable by the VA.
Death cannot be due to willful misconduct.
When a spouse remarries, eligibility may be restored if the marriage is later terminated by divorce or death.
3. Pension – is a monthly payment to a veteran for a non-service connected disability or payment to a spouse after the death of a veteran (Death Pension). A veteran must have had 90 days or more active military service, one day of which was served during a period of war and was discharged under other than dishonorable conditions. A veteran must also be permanently and totally disabled. Unreimbursed medical expenses may be used to reduce an applicant's income to meet the guidelines.
4. Nursing Homes – Veterans or their spouses may be eligible for Pension with Aid and Attendance, or at the Housebound rate, upon entering a nursing home, in need of the regular aid and attendance of another person, or who is permanently housebound. (See Medicare website for information on nursing homes.)
5. Home Loan Guarantees – Loan guarantees made to service members, veterans, reservists and unremarried surviving spouses for the purchase of homes, condominiums and manufactured homes and for refinancing loans.
6. Veterans Exposed to Agent Orange (Viet Nam), Radiation, or Illnesses Stemming From the Gulf War – Benefits granted for only a specified list of conditions determined to be associated with exposure to Agent Orange, ionizing radiation, or chronic disabilities resulting from undiagnosed illnesses. This list may be expanded in the future and all veterans are urged to make application for benefits even for conditions not on the specified list, since there is a possibility for retroactive benefits if the condition is later added to the list.
7. Burial Benefits – Veterans are eligible for burial in a VA national cemetery if they were in the military for the required period of time and were discharged under conditions other than dishonorable. Benefits include a gravesite, a headstone or marker, opening and closing of the grave and perpetual care.
State Benefits
8. State Subsistence/Dental/Optical – Temporary financial assistance to veterans and their dependents during a period when veterans are disabled and not able to work at their normal occupations. Veterans must have served 181 consecutive days active duty, unless discharged due to disability incurred while on active duty, and discharged under honorable conditions. Benefits under this program are income based and the maximum length of assistance is six months. This program also provides payment of monthly utilities (excluding telephone service), monthly rent or mortgage, basic dental and optical care and clothing allowance to eligible veterans and their dependents.
9. State Veterans Homes – Five state veterans homes have been established by the Minnesota Legislature to provide nursing and domiciliary care to eligible Minnesota veterans and their dependents. These homes are located at Minneapolis, Hastings, Silver Bay, Luverne and Fergus Falls. Visit this website or watch "Home for Heroes".
10. Chemical Dependency Treatment – Chemical dependency treatment and aftercare is available to veterans at different facilities throughout the state.
11. State Veterans Cemetery – This cemetery is located near Camp Ripley, north of Little Falls, and is open to all members of the armed forces and veterans discharged under conditions other than dishonorable, a spouse, unremarried widow or widower, minor children, and unmarried adult children (under certain circumstances). For other State and Federal benefits, please contact your local County Veterans Service Officer.
For additional state veterans benefits you can view the MN Dept of Veteran Affairs web site.
https://www.co.faribault.mn.us/veterans-services
Hours of Operation:
Monday – Friday
8:00am to 4:30pm
Closed on observed holidays
Address:
Blue Earth Ag Center
435 S. Grove St.
Suite 1A
Blue Earth, MN 56013
United States