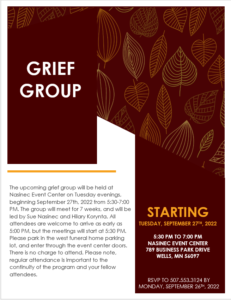 The upcoming grief group will be held at Nasinec Event Center on Tuesday evenings, beginning September 27th, 2022 from 5:30-7:00 PM.
The group will meet for 7 weeks, and will be led by Hilary Korynta.
All attendees are welcome to arrive as early as 5:00 PM, but the meetings will start at 5:30 PM.
Please park in the west funeral home parking lot, and enter through the event center doors.
There is no charge to attend. Please note, regular attendance is important to the continuity of the program and your fellow attendees.
To confirm your registration or should you have any questions, please call the funeral home at 507-553-3124.
DATES
Tuesday, September 27, 2022
Tuesday, October 4, 2022
Tuesday, October 11, 2022
Tuesday, October 18, 2022
Tuesday, October 25, 2022
Tuesday, November 1, 2022
BREAK (Election Day)
Tuesday, November 15, 2022