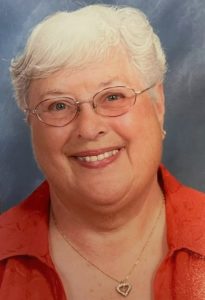 Edith June Zabel, age 87, of Wells, MN, died Wednesday, September 28, 2022 at The Shepherd's Inn in Wells. A Funeral Service will be held Monday, October 3, at 11:00 AM at Nasinec Funeral Home in Wells, MN, with Pastor Peg Marose officiating. Visitation will be held one hour prior to the service at the funeral home. Interment will be in Rosehill Cemetery. Nasinec Funeral Home in Wells is entrusted with arrangements. Please see www.nasinecfh.com to leave online condolences.
Edith June Pike was born August 8, 1935 in Austin, MN. Parents were Harold and Lillian Pike. After a few months, her mother died and she became a foster child of Carl and Evelyn Lawson of Geneva, MN. Edie attended country school for eight years, and graduated from Albert Lea High School in 1953. She then graduated from Mankato University with a degree in Elementary Education. She taught in Alden, MN; Fairmont, MN; San Diego, CA; and Wells, MN. Edith married Norman Schulz on July 27, 1968. He preceded her in death on May 4, 1978. On March 3, 1990 she married Don Zabel. He preceded her in death on January 18, 2016.
Edie is survived by her step-grandchildren: Troy (Kelly) Zabel, Jill Kroc, and Tracy (Chris) Songe; step-great-grandchildren: Haley, Riley, Shaya, Christian, Peyton, George, Kate, and Ian; sisters: Delma Wade, Donna Karlsgodt, Norma Pike, Joanne Maxfield, Charleen (Dick) Reed; brothers: Clayton (Carol) Pike, Glenn (Marlene) Pike, and Dean (Jan) Pike; sisters-in-law: Lois Bushlack and Violet Henderson; brother-in-law: Harold Davis; along with many nieces, nephews, and their families.
She was preceded in death by her parents Harold and Lillian Pike, her foster parents Carl and Evelyn Lawson, her twin sister Ethel Joy Lawson in December 1941; brothers: Ray Pike, Don Pike, Vernon Lawson, Don Lawson, and Warren Lawson; sisters: Lois Davis and Ruth Nelson; brothers-in-law: Andy Karlsgodt, Bill Wade, Brian Henderson, Jim Maxfield, and Delmar Nelson; also Bruce and Karen Schulz, Karen and Fritz Bleess, Jim Bushlack, and Phyllis Pike. Edie was also preceded in death by her beloved step-granddaughter Katie Zabel in December 1997, step-son Dennis Zabel in August 2018, and step-daughter-in-law Margaret (Muggs) Zabel in July 2022.