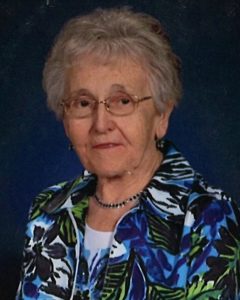 Margaret Mary (Stencel) Dickhoff, age 96, passed away Wednesday, September 28, 2022 at Parkview Care Center in Wells Minnesota. A Funeral Service will be held Monday, October 3, at 3:00PM at St. John The Baptist Catholic Church in Minnesota Lake, MN, with Father Greg Havel officiating. Visitation will be held one hour prior to the service at the church (2:00PM to 3:00PM). Interment will be in St. John The Baptist Catholic Cemetery in Minnesota Lake, MN. Nasinec Funeral Home in Wells is entrusted with arrangements. Please see www.nasinecfh.com to leave online condolences.
Margaret was born August 11, 1926, to Andrew and Martha (Evan) Stencel in Minnesota Lake. She was united in marriage to Willard Frank "Bill" Dickhoff at St. Theresa's Catholic Church in Mapleton, Minnesota on October 30, 1944 and were married for almost 67 years when Bill passed away in 2012. They made their home in Minnesota Lake and were blessed with five children, William, Bonnie, Richard, Connie and Lori.
Margaret worked for Nordaas American Homes for over 25 years. She worked in the cabinet shop, took care of the Guest House, cleaned the office and all buildings including washing the windows which were many in those days.  Margaret had a devout faith and was a member of St. John the Baptist Catholic Church in Minnesota Lake and often had her Rosary in hand.
She was a member of the Minnesota Lake American Legion Auxiliary where she helped serve coffee and donuts in the morning. She and Bill delivered Meals on Wheels locally for a number of years. She loved to play cards, Yahtzee and aggravation with her husband and grandchildren. She especially enjoyed it when she was the winner! For a number of years Margaret organized a bus to take the locals to Jackpot Junction, serving coffee and rolls on the ride.  She enjoyed walking and riding bicycle.
Margaret had a sweet tooth and loved to bake pies cookies and other delicious treats that she shared with family and friends. Apple crumb pie was a family favorite.
Margaret is survived by five children, William (Chris) Young of Tucson, AZ; Bonnie (Sheldon) Campbell of Mesquite, NV; Richard (Laura) Young of Frankston, TX; Connie Martin of Wells, MN; and Lori (Jason) Dobbe of Fairmont, MN; 12 grandchildren, Thomas (Kelly), Nicole, Wade (Desiree), Justin, Jesse, Jacob (Ashley), Josh, Cody (Fran), Casey (Estelle), Lisa (Nick), Katherine (Rodney) and Jon (Jaclyn);  and 15 great-grandchildren, Lindsay (Charles), Chelsea (Tyler), Amanda, Alexa, Andrew, Kathryn, Natalie, Benjamin, Tristan, Selah, Allie Ann, Millie, Zoey, Nash and Samantha Rose; five Great-great children, Madeline, Cameron, Charlotte, and Brooks; one sister, Audrey Healey of Mapleton, MN; sister-in-law Mildred Stencel and several nieces and nephews.
She was preceded in death by her parents; husband Willard, brothers: George, James (Agnes), Charles (Delores) and Byron in infancy; sisters: Evelyn (Lester), Collette (Lester), Adeline (Leonard) and Charlette (Alvin), son-in-law Kevin and great-grandson Carter.