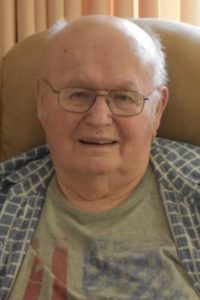 Ronald G. Boettcher, age 89, of Rake, IA, passed from this life on Sunday, October 2, 2022, at UHD hospital in Blue Earth, MN.  Funeral services will be held Thursday, October 6th at 11:00AM at Zion Lutheran Church in Rake. Interment will follow in West Cemetery with Full Military Honors. Visitation will be held at the church one hour prior to the service on Thursday (10:00AM-11:00AM). Nasinec Funeral Home in Wells is entrusted with arrangements. In lieu of flowers, memorials are preferred to St. Luke's Lutheran Care Center or to the donor's choice. Please see www.nasinecfh.com to leave online condolences.
Ronnie was born September 3, 1933, to Henry and Irene (Halvorson) Boettcher in rural Kossuth County, IA.  He spent the majority of his life in Rake, helping at his parents' restaurant when he was a youngster.  He graduated from Rake High School in 1951 and later served in the U.S. Army.  He was a confirmed member of Zion Lutheran Church, where he married Lavonne Gruhn on July 20, 1958.  He drove the Standard Oil truck and delivered fuel to patrons of the surrounding area, but his path in life was as a carpenter.  He touched the lives of many people with the houses he built, remodeling projects, cabinet work, and later on with garden barns and play houses.  He would tear down old houses or barns or other structures and recycle the wood into many of his projects.  He used his woodworking skills for a great many memorable items for his family as well, following a pattern or looking at a picture and creating his own.
Ron and Lavonne loved to square dance and they were one of the original charter couples of the Rake Rocking R's square dance club.  They had a large garden every year, several apple trees and a pear tree.  They traveled most years to visit relatives, and Ron was proud to have the privilege to take the Veterans Honor Flight to Washington D.C.  He always enjoyed reading his WWII books and magazines.  He rarely, if ever, missed having morning and afternoon coffee uptown in Rake on a daily basis.  He also enjoyed a good jigsaw puzzle and playing bingo, both which he continued as he moved into assisted living and St. Luke's nursing home.  He loved having his family come to visit and spending time with his kids and grandkids, and he also loved tinkering around or spending time just sitting and talking with good neighbors and friends.
He is survived by his daughters, Joan (Brian) of Fairmont, MN, and Julie (Duane) of Lakota, IA; his grandchildren, Danielle and Dustin Meyer, and Emily, Alan and Taylor Davids; his brother Gary (Alice) Boettcher of Churchville, Maryland, sister-in-law Florence (Bob) Natzke of Greenleaf, Wisconsin; brother-in-law Virgil Gruhn of Ravenna, Nebraska, and sister-in-law Linda Gruhn, of Holdrege, Nebraska, along with many nieces, nephews and extended family.
Ron was preceded in death by his parents, his wife, Lavonne, his in-laws, Bert and Ella Gruhn, brother-in-law Laverne Barnes, sister-in-law Lois Burns, brother-in-law Roger Gruhn, and sister-in-law Sharon Gruhn.
The family wishes to extend their deepest gratitude to the St. Luke's staff, Dr. Aaron Johnson and the nursing staff at UHD for their compassionate care.