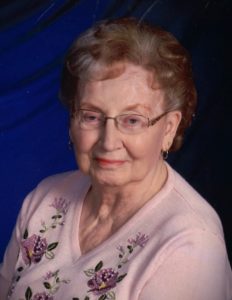 LaVon Wegner, age 90, of Wells, MN, died Tuesday, October 18, 2022 at Heartland Senior Living-Parkview Campus in Wells. A Funeral Service will be held Monday, October 24, 2022 at 10:30 AM at Open Doors United Methodist Church in Wells, MN, with Pastor Chris Leistra officiating. Visitation will be Sunday, Oct. 23 from 1:00 PM to 3:00 PM at Nasinec Funeral Home (789 Business Park Dr., Wells, MN  56097).  Visitation will continue one hour prior to the service at the church on Monday. Interment will be in Rice Lake Cemetery, Foster Twp., Faribault Co., Minnesota.  Nasinec Funeral Home in Wells is entrusted with arrangements. Please see www.nasinecfh.com to leave online condolences.
LaVon Mae was born May 14, 1932 the daughter of Henry and Esther (Paulson) Katzung in Kiester Twp., Faribault Co., MN.   She attended country school and graduated Salutatorian from Kiester High School, the class of 1950.  In her younger years she enjoyed roller skating.
LaVon was united in marriage to Philip R. Wegner August 13, 1950 in Clarks Grove, MN.  To this union four children were born: Mike, Lori, Ronald and Connie.  While raising her children she was a 4-H leader, Sunday School teacher and taught Bible School.  She and Philip enjoyed bowling in Couples League too.  LaVon was a member of Rice Lake Methodist Church until it closed and she joined Open Doors Methodist Church in Wells.  LaVon worked alongside her husband and sons doing tillage and making many meals.  She enjoyed coffee and Latte's with her son Mike and she loved her chocolate.  She especially loved spending time with her grandchildren and great-grandchildren and was pleased to be given the title of Great-great grandma.
Lavon is survived by her children: Ronald (Jody) Wegner of Wells, Lori (Jerald) Beckel of Madison Lake,  Connie (Dale) Stenzel of Wells, and daughter-in-law Marlene Wegner of Wells; grandchildren: Eric (Shannon) Wegner, Michelle (Scott) Oltman all of Wells, Ryan (Amy) Wegner of Buffalo, MN; Collette (Tom) Boyle of Pine Island, MN, Brian (Jessica) Beckel of Madison Lake, MN, Andrew (Dagmar) Beckel of Bloomer, WI, Linnea (Wayne) Wencl of Blooming Prairie, MN; Britt (Kirstyn) Wegner, Blair (Lana) Wegner, all of Wells, Breanna (Brett) VonBank of Rochester, MN; Steve (Sarah) Stenzel of St. Paul, MN, Sara (Dave) Kuglin of Mankato, MN;  Great-grandchildren: Colin (Mikayla) Wegner, Carson Wegner (Amber Hagen), Molly Wegner; Emily Mandler  (fiancé Colin Troeger), Chase Oltman; Jameson Wegner; Gunnar Starks; Daytin and Kasota Zimmerman; Dagmar Anna and Blanka Beckel; Jayden, Cameron and Allison Wencl; Nadia and Natalie Wegner;  Bexley, Deakon and Emrick Wegner; Alex VonBank; Henry and Charles Stenzel;  Ian and Aubree Kuglin; great-great-grandchildren: Cash Wegner and Maeve Troeger; sister-in-law Jaunice Gerber of Wells; several nieces and nephews and their families.
She was preceded in death by her husband Philip Wegner, son Michael Wegner, sister Henrietta (Phalen Seedorf and George Schmidt), brother-in-law Don Gerber, sister-in-law, Geraldine (Elwood) Klingbeil.