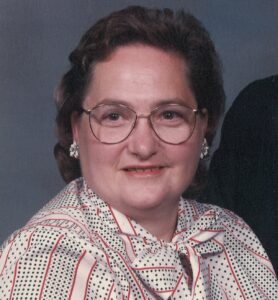 Carolee Joyce Goette, age 75, of Bricelyn, MN, passed away peacefully Thursday, January 5, 2023 at Mayo Clinic Health System in Austin, MN surrounded by family.  Funeral Services will be held Wednesday, Jan. 11, 2023 at Bricelyn Lutheran Church at 11:00 AM with Pastor Peg Marose Officiating.  Visitation will be held Tuesday, Jan. 10, 2023 at Nasinec Funeral Home in Wells, MN from 4:00-7:00 PM.  Visitation will continue one hour prior to the service at the church on Wednesday.  Burial will be in Bricelyn Lutheran Cemetery, Seely Twp., Faribault Co., MN.  Nasinec Funeral Home in Wells is entrusted with arrangements. Please see www.nasinecfh.com to leave online condolences.
Carolee was born Dec. 12, 1947, the daughter of Willis and Elna (Hanna) Babcock in Owatonna, MN.  Carolee was united in marriage to Ronald Goette August 8, 1967 in Sioux Falls, SD.  The couple farmed for many years south of Bricelyn, MN, and they enjoyed horseback riding and traveling the United States together. Carolee enjoyed camping with the grandkids, especially during Bricelyn's 4th of July Celebration and at Jellystone.  She was a member of Bricelyn Lutheran Church.  Carolee enjoyed carving and creating, making crafts and being with her kids and grandkids.
She is survived by her 4 sons:  Paul Goette of Cedar Rapids, IA, Dale Goette of Marion, IA, John (Tricia) Goette of Bricelyn, and David (Amy) Goette of Bricelyn, MN; 8 grandchildren: Kevin Goette (Krystal Fisher) and Darcy Goette (fiancé David Bailey); Carson Behrens-Goette; Andrew, Rachel, Nathan and Hope Goette; Adeline Goette; 2 sisters: Mavis (Ken) Christenson, Dollie (Carl) Olson and sister-in-law Lola Babcock; along with several nieces, nephews and their families.
She was preceded in death by her parents, one daughter in infancy, husband Ronald (2005), brothers Jim and DuWayne and her sister Mary.