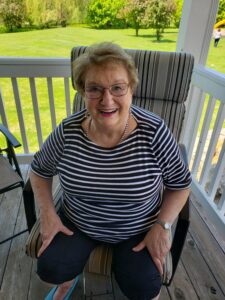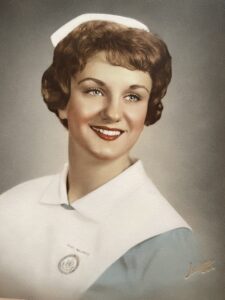 On Thursday, December 15, 2022 the world lost some laughter when Joyce Wallinder Johnson, surrounded by loved ones, peacefully left this world, and died from complications of pancreatic cancer at (the phenomenal) Little Hospice in Edina, MN.  She was born in Minneapolis on December 28, 1942 to Roy and Emma (Swenson) Wallinder, and was later joined by brother Glen.  Joyce enjoyed a happy childhood and graduated in 1960 from Washburn High School.  That summer she went to work at Glacier National Park in Montana where she found adventure and found herself.  She learned she did not have to be what others expected and could choose who she wanted to be.  She chose funny (often shock humor) and bold.
During her time at Gustavus Adolphus College in St. Peter, MN (and later at Bethesda in St. Paul for the remainder of the nursing program), she made lifelong friendships and met her husband of 58 years, John Johnson.  The 1964 GAC nursing class got together every month since and has been one of the MANY wonderful tribes (like W.O.W.) that she cherished in her life.
Joyce worked as a nurse while John pursued seminary school.  In 1966, they headed to an internship in Baltimore, MD where Joyce truly earned her stripes in public health.  She was passionate about this path until it became too much with demands of motherhood, being a minister's wife, and a full-time career.  Her time was then dedicated to raising their children Tim, Kirk, and Molly. They returned to MN and found their way to Lakeville, and loved decades at their forever home on Crystal Lake.
If you knew Joyce, you knew she loved to travel around the world (especially with best friend Karen Knoll).  She always found a way to buy the heaviest or largest items on the first few days of the journey and never did figure out how to barter (but as she said, she helped the economy of many countries).  Traveling was her true love until she became Nana!  Nothing was more important to her than her grandchildren Ellie, Tatum, Maya, Tyler, and Josie.
But most of all, she was the collector of people; the lost, the lonely, and the spectacular – and they were all treated the same.  With her, you were seen and accepted as you are; and treated to many bouts of riotous laughter – some appropriate, some not. But that was her, sincere and authentic, and totally one of a kind.  She made so many lives richer by what she brought to relationships and she will be deeply missed by so many.  Greeting her on the other side are her parents, brother, and beloved son Kirk.  Invitations will be sent for a celebration in the spring.
Left to grieve her absence are husband John, son Tim (Julie) of Denver, CO, and Molly (Brad) Warmka of Jordan, MN.  And finally, her infamous advice: "always have your own money, no Prince Charming is going to save you – save yourself, and it's okay to laugh at yourself."
"Love you the most, bye bye for now."