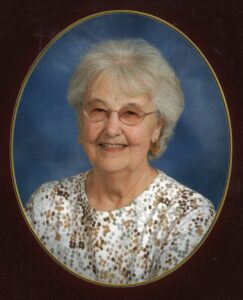 Marjorie Ulferts, age 87, of Wells, MN, died Sunday, Jan. 15, 2023 at Mayo Clinic Heath System in Mankato, MN surrounded by family.  A Funeral Service will be held Friday, Jan. 20, 2023 at Good Shepherd Lutheran Church at 11:00 AM with Pr. Joe Smith officiating.  Visitation will be one hour prior to the service at the church.  Burial will be in Prairie Hill Cemetery in Fulda, MN.  Nasinec Funeral Home in Wells is entrusted with arrangements. Please see www.nasinecfh.com to leave online condolences.
Marjorie Ann was born Nov. 22, 1935, the daughter of Peter and Anna (Bruns) Boomgarden in Slayton, MN.  Upon her graduation from Fulda High School, the class of 1953, she was united in marriage to Werner Ulferts, and to this union 6 children were born.  In 1970, the couple moved to Wells and later divorced.  Marjorie worked at Del Monte/Stokley plant for many years. She was known as the "lunch lady" at Wells-Easton High School (now USC), preparing many meals and giving out desserts.  She was a member of Good Shepherd Lutheran Church and the Wells American Legion Auxiliary.  Marjorie was an avid reader, enjoyed watching game shows on TV, crafting, and playing the piano.  She enjoyed camping with the family and visited almost all the State Parks of Minnesota, only missing a few.  Marjorie enjoyed road trips to the country to photograph old barns and was an avid collector of Lighthouse memorabilia.
Christmas was her favorite holiday.  She loved decorating every room in the house, (every room needing a decorated tree), cookie baking, making treats but most importantly was the gathering of her family.
Marjorie is survived by her children:  Warren (Jane) Ulferts of Kiester, Cyndi (Randy) Wetzel of New Richland, Jeff (Kathy) Ulferts of Forest City, IA, Lisa Ulferts of Wells, Bryan (Stephanie) Ulferts of Bismarck, ND, Mark (Michele) Ulferts of Waseca, MN; 15 grandchildren and 26 great-grandchildren and one on the way; one sister-in-law, Carolyn Boomgarden of Windom, MN, along with several nieces and nephews and their families.
She was preceded in death by her parents; 3 brothers, Pete (Karen) Boomgarden, Bob Boomgarden and Gary Boomgarden; one grandson, Jason Wetzel.
On behalf of Marjorie's family, we wish to thank the Mapleton Community Home and MCHS Palliative Care Team for her tremendous care.