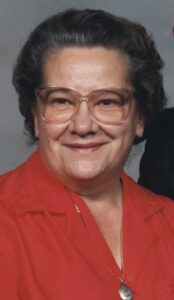 Mildred Mary Sailor, age 91, of Wells, MN, died Sunday, January 15, 2023 at St. John's Lutheran Community in Albert Lea, MN.  A Funeral Service will be held Monday, January 23, 2023 at 11:00AM at Nasinec Funeral Home in Wells, MN, with Pastor Joseph Smith officiating.  Visitation will be one hour prior to the service at the funeral home (10:00-11:00AM). Interment will be in Rosehill Cemetery in Wells, MN.  Nasinec Funeral Home in Wells is entrusted with arrangements. 
Mildred Mary was born July 3, 1931, the daughter of Paul and Nellie (Veloske) Schultz in rural Minnesota Lake, MN. She attended St. Casimir Catholic School in Wells, MN. Millie was united in marriage to Gerald Sailor January 18, 1954 at North Blue Earth Church, in Bricelyn, MN and to this union two children were born. While her husband Jerry was in the service they lived in Louisiana and California until they came back to Minnesota to make their home in Wells.  Millie worked at the Stamper Plant and attended Good Shepherd Lutheran Church. She enjoyed feeding the birds and always commented about the fat bunnies who ate the left-over bird seed. Millie's true calling was as a caretaker. She lovingly cared for her husband for twenty years and prior to that cared for her brother. Millie loved being a grandma and enjoyed spending time with her grandchildren.
Millie is survived by her son Scott (Kathy) Sailor of Kalona, IA; daughter Kelly (Danny) Joseph of Austin, MN; granddaughters: Samantha (Stephen) Bender of Wellman, IA, and Katelyn (Ross) Plunkett of Onalaska, WI; grandson Dylan (Amber) Joseph of Rochester, MN; and great-grandchildren: Grant, Mason, Rhys and Bodie Bender and Lucy and Rosie Joseph, along with numerous nieces and nephews, and their families.
She was preceded in death by her husband Gerald Sailor, parents Paul and Nellie, along with several siblings and family members.