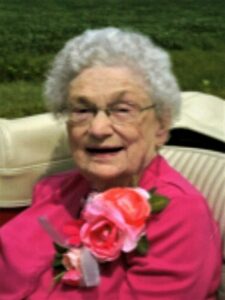 Thelma Schweer, age 95, of Mapleton, MN, formerly Waldorf, MN died Saturday, April 8, 2023 at The Beacon Assisted Living in Mapleton, MN. A memorial Service will be held at First Lutheran Church in Waldorf, MN at 11:00AM on Saturday, June 17, 2023 with Pastor Michael Matthews officiating.  Burial will be in First Lutheran Church Cemetery in Waldorf, MN. Visitation will be one hour prior to the service at the church on Saturday (10:00 to 11:00AM).  Nasinec Funeral Home in Wells is entrusted with arrangements. Please see www.nasinecfh.com to leave online condolences.
Thelma Mae was born February 24, 1928 at Alma City, MN to John and Esther (Beske) Beelow. At Waldorf High School, Thelma was co-valedictorian, cheerleader, and band member along with many other activities. After graduation in 1946, she attended Mankato Commercial College and later took employment with Jostens in Owatonna, MN. Thelma was united in marriage to Robert Schweer on December 30, 1950. Together they had 3 sons, Mark, Scott, and Dale. After marriage she helped Robert on the farm until retirement.
Thelma was an active member of First Lutheran Church of Waldorf. Thelma and Robert traveled to all 50 states and visited many other countries. Later they settled down to winter in Sun City, AZ for 15 years. Thelma and Bob also enjoyed playing cards, square dancing and were involved in several different clubs together.
Thelma is survived by her 3 sons: Mark (Sherri) Schweer of  San Diego, CA, Scott (Lori) Schweer of Minnesota Lake, MN, and Dale (Pam) Schweer of Waldorf, MN; grandchildren: David Schweer (Val`eria), Daniel Schweer, Debra Schweer, Josh Schweer all of San Diego, CA, Jason (Alicia) Schweer of Minneapolis, MN, Kevin (Laura) Schweer of Minnesota Lake, MN, Bethany (Alex) Huls of Alexandria, MN and Tanner (Karen) Schweer of Sioux Falls, SD; 9 great-grandchildren; sisters-in-law: Louise Bartelt of Mankato, MN, and Ruth Roesler of Wells, MN and many nieces and nephews and their families.
She is preceded in death by husband Robert, her parents, sister Beulah Ewald, and brothers-in-law: Donald Schweer, Gordon Bartelt, Donald Roesler and Lyle Ewald.