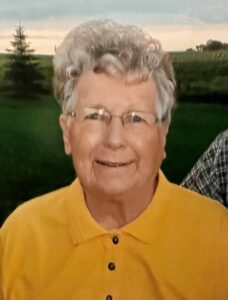 Elaine Mildred Rebelein, formerly of Kiester, age 94, died Tuesday, April 11, 2023 in New Hope, MN.
She was born on August 31, 1928 to Hans and Ella (Peterson) Engebretson on the family farm near Vinje, IA. After graduating from Lake Mills High School in 1946, she worked at the First National Bank of Kiester as a secretary since she was proficient in typing and shorthand. While in Kiester she met Marvin "Bob" Rebelein and they were married August 25, 1948 at Bethel Lutheran Church in Vinje, IA. They settled on the Rebelein family farm just east of Kiester, MN.
As a farm wife, Elaine was busy assisting with farm chores in addition to keeping a large vegetable garden and many flower gardens. She acquired her love of flowers from her mother and was never too busy to give them her attention and appreciate their beauty. She was fond of the adage: "We come from the earth, we return to the earth and, in between, we garden."
Elaine was a faithful and active member of St. Paul's Lutheran Church and then Our Savior's Lutheran Church in Kiester, MN. She and Bob made sure their six children participated in all aspects of church life. Elaine also sang in the church choir and, due to her singing talent, was often recruited to sing solos at weddings and funerals. Her musical talents included being able to play the piano by ear. She also loved to dance, taking every opportunity to attend dances at various local ballrooms and teaching her kids some of the "old-time" dances.
Her other loves included birdwatching, bowling, welcoming friends and family to their kitchen table for coffee and a treat, baking cookies with her grandchildren, serving her homemade pies to rave reviews, and keeping family traditions alive.
Elaine is survived by her children: Candace Powell of Ft. Walton Beach, FL, Dana (husband Dave) Porter of Minneapolis, MN, Steven Rebelein of Two Harbors, MN, and Stephanie Rebelein of Sioux Falls, SD; 9 grandchildren: Chase, Colleen, Caitlin; Andrea (Julian), Alex (Natalie), Allison (John); Brian (Courtney), Erin and Hunter; 3 great-grandchildren: Kadence, Corbin, and Addison; sons-in-law Cliff Riedinger of Kensett, IA and Chuck McGovern of Charlotte, NC.
She is preceded in death by her parents, husband Bob, daughters Denise McGovern and Heidi Rebelein, and granddaughter Hana Riedinger; sister Elsie and brothers Clarence, Gayler, Harold, Merel, and Harris.
The Memorial Service will be held Monday, May 1st, 2023, at 11:00 am at Our Savior's Lutheran Church in Kiester, MN with Pastor Peg Marose officiating. Visitation will be one hour prior to the service at the church. Burial will be in Our Savior's Lutheran Cemetery in Kiester, MN. Nasinec Funeral Home in Wells is entrusted with arrangements. Memorials preferred to Our Savior's Lutheran Church in Kiester, MN. Please see www.nasinecfh.com to leave online condolences.