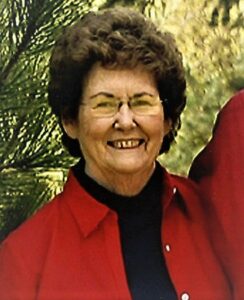 Mary Ann O'Rourke, age 84, of Wells, died Tuesday, April 25, 2023, at French Meadow Place in Le Sueur, MN. The Mass of Christian Burial will be held Tuesday, May 2, 2023, at 11:00AM at St. Casimir Catholic Church in Wells, MN with Father Greg Havel officiating. Visitation will be held prior to the service at the church from 9:00 to 11:00AM on Tuesday. Burial will be in St. Casimir Catholic Cemetery in Wells, MN. Memorials are preferred to: NAMI (National Alliance of Mental Illness), St. Casimir Catholic School, or to Donor's Choice. Nasinec Funeral Home in Wells is entrusted with arrangements. Please see www.nasinecfh.com to leave online condolences.
Mary Ann was born October 21, 1938, in Mankato, MN, the daughter of Henry and Delia (Scheid) Schuster. She graduated from Minnesota Lake High School and then from St. Mary's School of Nursing in Rochester, MN. Mary Ann was united in marriage to Patrick O'Rourke, December 28, 1960 at St. John the Baptist Catholic Church in Minnesota Lake, MN and to this union three daughters were born. Mary Ann had a deep love for her faith and family. She enjoyed traveling, experiencing the arts through museums, music, and plays, and going out for lunch with family and friends. She was an avid reader, enjoyed cooking, baking, and trying out new recipes, and flower gardening.
Mary Ann is survived by daughters: Julie (Paul) Burkhardt of Mendota Heights, MN, Mary (Jim) Glazer of St. Paul, MN, and Molly (Billy) Schultz of Le Sueur, MN; grandchildren: Katie and Sarah Glazer, and Erin and Connor Schultz; brother: Paul (Karen) Schuster of Minnesota Lake, MN; along with nieces, nephews, several in-laws, and their families.
She was preceded in death by her parents; her husband Patrick in 2013; and siblings: Suzanne (Aaron) Cansler and Julie (Richard) Allis.