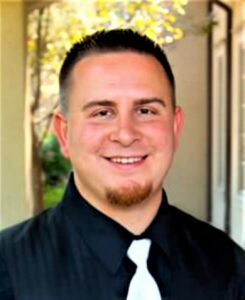 Jeremy William Otto, age 38, of Wells, MN died Tuesday, April 25, 2023 in Granada, MN as a result of injuries sustained in a motorcycle accident.  Funeral Services will be held at Nasinec Funeral Home (789 Business Park Drive, Wells, MN) at 11:00 AM on Saturday, May 6, 2023 with Pastor Hilary Korynta officiating.  Visitation will be held Friday, May 5, 2023 from 4:00-7:00 PM at Nasinec Funeral Home in Wells and will continue one hour prior to the service at the funeral home on Saturday (10:00-11:00 AM).  Nasinec Funeral Home in Wells is entrusted with arrangements.  Please see www.nasinecfh.com to leave online condolences.  A Celebration of Life will also be held on May 27, 2023 from 1-4 PM at Trinity Lutheran Church (418 N Main St., Janesville, MN 56048) All who knew Jeremy are welcome to gather with his family.
     Jeremy William Otto was born April 27, 1984, in Bloomington Indiana, the son of Roger and Debra (Martindale) Otto.  Jeremy graduated from St. Clair High School, the class of 2002.  Jeremy was united in marriage to Sheena Marie (Blakestad) Trappe on Sept. 2, 2012 and became a father to Mikayla Marie Otto.
Jeremy loved his family.  More than anything, he loved being a dad and would playfully respond, "Anything she wants," in regard to spoiling his daughter, Mikayla.  Jeremy was a proud dad and enjoyed telling others about his daughter.  While she was growing up, the two of them would have nightly thumb wars before saying goodnight.  Although they had countless battles, Mikayla remains undefeated.  Jeremy was a loving husband.  There was no problem over the years that he and his wife weren't willing to work to overcome together.  Jeremy would get up earlier than his wife for work and would often times place another blanket over her on chilly mornings before kissing her goodbye for the day.  His wife would prep his favorite lunches and snacks for him each Sunday.  Together they were working to change their lifestyle with clean eating and exercise.  They celebrated each small victory together and were looking forward to plans they were making together for their future.  They were truly each other's better half.
     Jeremy enjoyed family game nights, especially playing poker, Catan, without a sand timer for Mikayla's turns, not as much but he did have a sand timer in the Amazon cart for next time!  Jeremy enjoyed watching the Indiana Hoosiers and the Minnesota Vikings.  He would sound his impression of the Viking horn, loudly, several times throughout the game, to be followed by similar horns sounding in response from wherever in the house his wife and daughter happened to be.  Jeremy enjoyed the outdoors, whether it was hiking with his family and pups, camping with friends or "Bampin!" (backyard campin') with his wife and daughter.  Jeremy had his own brand of dad jokes and they didn't have to be good ones to still get a laugh.  Together with his wife and daughter, they shared similar mannerisms, inside jokes and so much love.  Jeremy loved riding motorcycle and was so excited and proud to have finally purchased his first Harley.  He couldn't wait to get out and ride once the weather started to get nice.  Jeremy worked hard at his job and at home.  He was fun loving, had a huge heart and was a helpful and caring son.  He would always do his best to make time for projects his and his wife's parents needed done.  His favorite projects though, were the ones completed for fun in his shop or garage with his wife and daughter.  Jeremy loved his dogs but his cats were loved & doted on at almost the same, "Anything she wants" level as his daughter, including the stray cat who was given a handmade shelter, the name, "Dusty," and 2 meals each day, with heavier servings during winter.
Jeremy worked hard over the years to better himself for himself and for his family.  He is gone far too soon.  His family is so proud of the man he had become and he will be greatly missed!
     He is survived by his wife Sheena of Wells, daughter Mikayla Otto of Wells; his father Roger Otto of St. Clair, mother Debra Otto of St. Clair, MN; 2 brothers, Dustin Otto of Redwing, MN and Karl Otto and his daughter Khloe of St. Clair, 2 sisters, Addie Otto and Gabriella Otto of the Twin Cities; sister-in-law: Trisha (Chuck) Deye and their children Anna, Aubrey and Cuinn of Shapleigh, ME; mother-in-law, Carol Blakestad of Wells; along with several aunts, uncles, cousins and their families.
     He was preceded in death by his paternal and maternal grandparents: Harold (Mary) Otto, Paul Martindale, Helen (Allen) Conley, and an uncle, Jeff Otto.