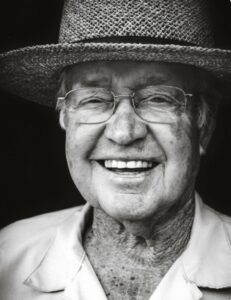 Clarence Edward Wetzel, of Wells, Minnesota, passed away on Friday, April 28th, at his home in Wells. After a few months of declining health, Clarence passed away at 93 years old.
Clarence was born October 25th, 1929, to August and Clara (Block) Wetzel in rural Wausau, WI. He married Thelma Gladys Boelke on January 29th, 1954, in Wells, where the couple settled, raised their two children and built their life together. Clarence was a life-long farmer, a profession he loved and passed on to his son, Doug. Clarence was a man-of-all-trades.  In his younger years, he did many jobs during the winter season, including working at Matz Mink Farm, driving school bus, working at Wilson Foods and even working as a plumber.
As an avid gardener, Clarence was often found tending to his roses and flowerpots, as well as his raspberry bushes and vegetable garden. He was a loving grandfather to his grandchildren, Davis and Lauren, and would never say no to taking them out for a ride in his 1926 Ford Model T, biking around Wells on his two-seater bike, or going to the park for a three-person baseball game. Clarence was a devoted Christian and an active member of the Wells Assembly of God Church, attending Bible studies and always sharing the Word of God.
Clarence was preceded in death by his parents, four of his brothers, and two of his sisters. He is survived by his wife, Thelma Wetzel of Wells, MN; his children, Patti Wetzel (Sirous) of Santa Fe, NM and Doug Wetzel (Christie) of Wells, MN and his grandchildren, Davis Wetzel of Inver Grove Heights, MN and Lauren Wetzel of Waco, TX; his sister, Marion; and his many nieces, nephews, great-nieces, and great-nephews.
A visitation is planned for Clarence on Sunday, May 7th, 2023, from 2 p.m. to 5 p.m. at Nasinec Funeral Home (789 Business Park Drive) in Wells, and will continue one hour prior to the service at the funeral home (9:30-10:30 AM) on Monday. The funeral will be held at 10:30 a.m. on Monday, May 8th, 2023, at Nasinec Funeral Home.